Welcome Back! We're starting Walt Disney's masterpiece, Fantasia. Fantasia is literally a work of art filled with beautiful classical music. It's not exactly your typical movie and there's never been anything quite like it.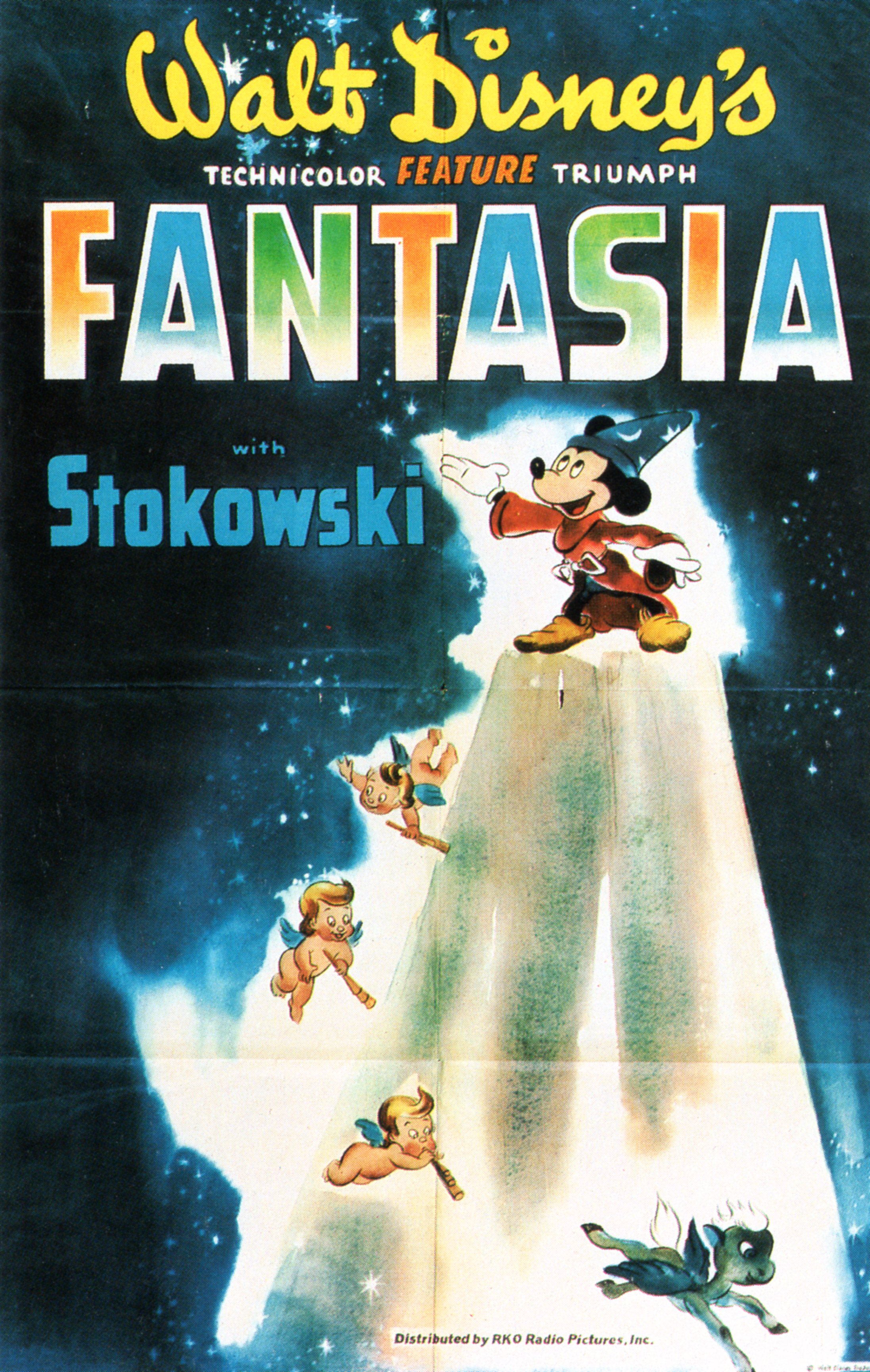 Fantasia was released November 13, 1940 by Walt Disney Productions and RKO Pictures. Fantasia is best explained not as a movie, but into segments. There are 8 animated segments that are set to classical pieces conduct by Leopold Stokowski. 7 which are performed by the Philadelphia Orchestra; Deems Taylor (Composer and Critic) provided the live-action introductions to the film.
Fantasia introduced Fantasound, which was a pioneering sound reproduction system that made Fantasia the first commercial success in stereophonic sound. Fantasia has grossed $74.6 million in domestic revenue. Fantasia is #4 (after Snow White, 101 Dalmatians, and the Lion King) in highest-grossing films in animation and #23 in all films. In 1998, it was ranked by the American Film Institute as the 58th Greatest American Film in their 100 Years… 100 Movies, and the 5th greatest animated film in their Top 10 list. Fantasia won two honorary Academy Awards for Walt Disney.
As, mentioned earlier Fantasia is best to be explained in segments. The segments are:
Toccata and Fugue in D Minor- (Abstract Patterns)
Nutcracker Suite- (Variety of Dances)
The Sorcerer's Apprentice- (Mickey Mouse Scene)
Rite of Spring- (Dinosaurs)
Intermission/Meet the Soundtrack- (Orchestra)
The Pastoral Symphony- (Greek Mythology)
Dance of the Hours- (Dancing Animals)
Night on Bald Mountain and Ave Maria- (Chernabog Scene) (Light)
History:
Fantasia was produced by Walt Disney and Ben Sharpsteen (Pinocchio, Dumbo). The story is by Joe Grant (Disney Legend) (Snow White-Dumbo, Saludos Amigos, Make Mine Music, Beauty and the Beast-Fantasia 2000, Monsters Inc., Chicken Little, and Up), and Dick Huemer (Disney Legend) (Shorts, Dumbo, Saludos Amigos, Make Mine Music, and Alice in Wonderland).The film is starring Leopold Stokowski and Deems Taylor who is also the narrator.
Fantasia is directed by Samuel Armstrong (Dumbo, Bambi), James Algar (Snow White, Bambi, and The Adv. Of Ichabod and Mr. Toad), Bill Roberts (Pinocchio-The Three Caballeros, Shorts), Paul Satterfield (Bambi, The Ugly Duckling), Ben Sharpsteen, David D. Hand (Snow White, Bambi, and Shorts), Hamilton Luske (Pinocchio, Make Mine Music-Melody Time, Cinderella-Lady and the Tramp, and 101 Dalmatians), Jim Handley (Pinocchio, The Reluctant Dragon), Ford Beebe, T. Hee, Norman Ferguson (Snow White, Pinocchio, Cinderella), and Wilfred Jackson (Shorts). The music is by the Philadelphia Orchestra.
Fantasia is the 3rd Disney animated film. During, the Sorcerer's Apprentice scene, probably one of the most famous scenes, Disney was originally going to use Dopey as the apprentice. Instead, Mickey Mouse began to decline in popularity, so Walt Disney decided to use Mickey Mouse as the apprentice. The costs of Fantasia kept rising, so Disney decided to make short segments set to classical pieces. "The soundtrack was recorded using multiple audio channels and reproduced with Fantasound, a pioneering sound reproduction system that made Fantasia the first commercial film shown in stereophonic sound. Fantasia was first released in theatrical roadshow engagements held in thirteen U.S. cities from November 13, 1940." (Wikipedia)
It received mixed reviews, but was unable to make a profit because of World War 2. Fantasia has grossed 712,513,000. It's the 23rd highest grossing film of all time. Fantasia has been in video games, Disneyland attractions, live concert, and one of the only 2 sequels that are considered Disney Classics. Fantasia is now widely acclaimed.
Deleted material included Prelude in G minor and Troika by Sergei Rachmaninoff, and a rendition of The Song of the Flea by Mussorgsky sung by Lawrence Tibbett. "On September 29, 1938, around sixty of Disney's artists gathered for a two-and-a-half hour piano concert while he provided a running commentary about the new musical feature. A rough version of The Sorcerer's Apprentice was also shown that, according to one attendee, had the crowd applauding and cheering "until their hands were red." The final pieces were chosen the following morning, which included Toccata and Fugue in D minor, Cydalise et le Chèvre-pied by Gabriel Pierné, The Nutcracker Suite, Night on Bald Mountain, Ave Maria, Dance of the Hours, Clair de Lune by Claude Debussy, The Rite of Spring and The Sorcerer's Apprentice. Disney had already begun working out the details for the segments, and showed greater enthusiasm and eagerness as opposed to his anxiety while starting on Pinocchio." (Wikipedia)
Clair De Lune was removed from Fantasia. Disney had trouble making a concrete story to Cydalise, so it was also removed. On 1939, he wanted a stronger mythological theme to fit the piece, and chose Beethoven's sixth symphony.
The Making Of:
"Taylor arrived at the studio one day after a series of meetings began to select the musical pieces for The Concert Feature. Disney made story writers Joe Grant and Dick Huemer gather a preliminary selection of music and along with Stokowski, Taylor, and the heads of various departments, discussed their ideas. Each meeting was recorded verbatim by stenographers with participants being given a copy of the entire conversation for review. As selections were considered, a recording of the piece was located and played back at the next gathering. Disney did not contribute much to early discussions; he admitted that his knowledge of music was instinctive and untrained. In one meeting, he inquired about a piece "on which we might build something of a prehistoric theme … with animals". The group was considering The Firebird by Igor Stravinsky, but Taylor noted that his "Le Sacre du printemps would be something on that order", to which Disney replied upon hearing a recording, "This is marvelous! It would be perfect for prehistoric animals. There would be something terrific in dinosaurs, flying lizards, and prehistoric monsters. There could be beauty in the settings." (Wikipedia)
Animation:
Animation on The Sorcerer's Apprentice began on January 21, 1938. "Each of the seven hundred members of staff at the time received a synopsis of Goethe's 1797 poem Der Zauberlehrling, and were encouraged to complete a twenty-question form that requested their ideas on what action might take place. Layout artist Tom Codrick created what Dick Huemer described as "brilliantly colored thumbnails" from preliminary storyboard sketches using gouache paints, which featured bolder use of color and lighting than any previous Disney short. Mickey was redesigned by animator Fred Moore who added pupils to his eyes for the first time to achieve greater ranges of expression. Most of the segment was shot in live action, including a scene where a UCLA athlete was asked to run and jump across one of the studio's sound stages with barrels in the way, which was used for reference when Mickey traverses through water." (Wikipedia)
Disney wanted to do abstract art ever since he saw A Color Box by Len Lye in 1935. In 1938, Disney's plans were to make the Toccata and Fugue an experimental three-dimensional film, audiences were to be given cardboard stereoscopic frames with souvenir programs, but that was abandoned.
Art Babbitt credited The Three Stooges as a guide for the Chinese Dance in The Nutcracker Suite. Disney filmed dancers Joyce Coles and Marjorie Belcher in ballet skirts to sit above water for Dance of the Flutes. An Arabian dancer was used for the Arabian goldfish scene.
Originally, the Rite of Spring was to include early mammals and the first humans. The humans discovered fire and man's triumph. Disney decided to avoid controversy from creationists. Creationists promised to make trouble should he connect evolution with humans. The director (Roy Chapman Andrews) of the American Museum of Natural History gave them permission to learn more about the history of the planet. "Animators studied comets and nebulae at the Mount Wilson Observatory, and observed a herd of iguanas and a baby alligator that were brought into the studio. The camera was kept at a low position throughout the segment to heighten the immensity of the dinosaurs." (Wikipedia)
During the Dance of the Hours scene, Animators studied ballet performers Marjorie Champion and Irena Baronova. In order to draw Hyacinth, a woman weighing over 200 lbs. was brought onto the stage and her movements were recorded.
Bela Lugosi (Dracula) provided reference poses for Chernabog. The animator Bill Tytla disliked it, so he had his colleague Wilfred Jackson pose shirtless.
Over 1,000 artists and technicians were used for Fantasia, which features more than 500 animated characters. "Segments were color-keyed scene by scene so the colors in a single shot would harmonize between proceeding and following ones. Before a segment's narrative pattern was complete, an overall color scheme was designed to the general mood of the music, and patterned to correspond with the development of the subject matter. The studio's character model department would also sculpt three-dimensional clay models so the animators could view their subject from all angles." (Wikipedia)
Music:
"Music emerging from one speaker behind the screen sounds thin, tinkly and strainy. We wanted to reproduce such beautiful masterpieces … so that audiences would feel as though they were standing at the podium with Stokowski"." (Walt Disney) Disney collaborated with RKO Corporation to use multiple audio channels. The stage was altered acoustically with double plywood semi-circular partitions that separated the orchestra into five sections to increase reverberation.
During, the recording sessions, 33 microphones were placed around the orchestra which captured the music onto 8 optical sound recording machines placed in the hall's basement. "Each one represented an audio channel that focused on a different section of instruments: cellos and basses, violins, brass, violas, and woodwinds and tympani. The seventh channel was a combination of the first six while the eighth provided an overall sound of the orchestra at a distance. A ninth was later added to provide a click track function for the animators to time their drawings to the music." (Wikipedia)
In 42 days, 483,000 feet of film was used. Disney paid all expenses including musician's wages, stage personnel, a music librarian, and the orchestra's manager which cost nearly 18,000 dollars. Disney created a new system that would create the illusion that the actual orchestra was playing in the theater, and that is called Fantasound. The estimated cost was 200,000. Almost a fifth of the film's budget was spent on its recording techniques.
The Fantasia soundtrack was originally rejected by Stokowski. He agreed, but only if the Philadelphia Orchestra received profit. The soundtrack has nearly 2 hours of music, making it the longest soundtrack ever released in a Disney film.
Credits:
Musical score conducted by Leopold Stokowski. Performed by the Philadelphia Orchestra.
Segment
Personnel
Live Action Scenes:
Master of Ceremonies and Narrator: Deems Taylor

Cinematography: James Wong Howe

Toccata and Fugue in D Minor:

Musical Score: Toccata and Fugue in D Minor, BWV 565 by Johann Sebastian Bach, Transcribed by Leopold Stokowski

Director: Samuel Armstrong

Story Development: Lee Blair, Elmer Plummer, and Phil Dike

Art Director: Robert Cormack

Background Painting: Joe Stahley, John Hench, and Nino Carbe

Visual Development: Cy Young, Art Palmer, Daniel MacManus, George Rowley, Edwin Aardal, Joshua Meador, and Cornett Wood.

Nutcracker Suite:

Musical Score: The Nutcracker Suite Op. 71a by Pyotr Ilyich Tchaikovsky

Director: Samuel Armstrong

Story Development: Sylvia Moberly-Holland, Norman Wright, Albert Heath, Bianca Majolie and Graham Heid

Character Designs: John Walbridge, Elmer Plummer and Ethel Kulsar

Art Directon: Robert Cormack, Al Zinnen, Curtiss D. Perkins, Arthur Byram and Bruce Bushman

Background Painting: John Hench, Ethel Kulsar and Nino Carbe

Animation: Art Babbitt, Les Clark, Don Lusk, Cy Young and Robert Stokes

Choreography: Jules Engel

The Sorcerer's Apprentice:
Musical Score: The Sorcerer's Apprentice by Paul Dukas (Performed by orchestra, conducted by Stokowski)

Director: James Algar

Story Development: Perce Pearce and Carl Fallberg

Art Direction: Tom Codrick, Charles Phillipi and Zack Schwartz

Background Painting: Claude Coats, Stan Spohn, Albert Dempster and Eric Hansen

Animation Supervisors: Fred Moore and Vladimir Tytla

Animation: Les Clark, Riley Thompson, Marvin Woodward, Preston Blair

Edward Love, Ugo D'Orsi, George Rowley and Cornett Wood

The Rite of Spring:

Musical Score: The Rite of Spring by Igor Stravinsky

Directors: Bill Roberts and Paul Satterfield

Story Development and Research: William Martin, Leo Thiele, Robert Sterner and John Fraser McLeish

Art Direction: McLaren Stewart, Dick Kelsey and John Hubley

Background Painting: Ed Starr, Brice Mack and Edward Levitt

Animation Supervision: Wolfgang Reitherman and Joshua Meador

Animation: Philip Duncan, John McManus, Paul Busch, Art Palmer, Don Tobin, Edwin Aardal and Paul B. Kossoff

Special Camera Effects: Gail Papineau and Leonard Pickley

Intermission/Meet the Soundtrack:

Narrator: Deems Taylor

Directors: Ben Sharpsteen and David D. Hand

Animation: Joshua Meador, Art Palmer, Harry Hamsell and George Rowley

The Pastoral Symphony:

Musical Score: Symphony No. 6 in F Major, OP 68 "Pastorale" by Ludwig Beethoven

Directors: Hamilton Luske, Jim Handley and Ford Beebe

Story Development: Otto Englander, Webb Smith, Erdman Penner, Joseph Sabo, Bill Peet and George Stallings

Character Designs: James Bodrero, John P. Miller Lorna S. Soderstrom

Art Direction: Hugh Hennesy, Kenneth Anderson, J. Gordon Legg, Herbert Ryman, Yale Gracey, and Lance Nolley

Background Painting: Claude Coats, Ray Huffine, W. Richard Anthony, Arthur Riley, Gerald Nevius and Roy Forkum

Animation Supervision: Fred Moore, Ward Kimball, Eric Larson, Art Babbitt, Oliver M. Johnston, Jr. and Don Towsley

Animation: Berny Wolf, Jack Campbell, Jack Bradbury, James Moore, Milt Neil, Bill Justice, John Elliotte

Walt Kelly, Don Lusk, Lynn Karp, Murray McClellan, Robert W. Youngquist and Harry Hamsel

Dance of the Hours:

Musical Score: Dance of the Hours from the opera La Gioconda by Amilcare Ponchielli

Directors: T. Hee and Norm Ferguson

Character Designs: Martin Provensen, James Bodrero, Duke Russell and Earl Hurd

Art Direction: Kendall O'Connor, Harold Doughty and Ernest Nordli

Background Painting: Albert Dempster and Charles Conner

Animation Supervision: Norm Ferguson

Animation: John Lounsbery, Howard Swift, Preston Blair, Hugh Fraser, Harvey Toombs, Norman Tate

Hicks Lokey, Art Elliott, Grant Simmons, Ray Patterson and Franklin Grundeen

Night on Bald Mountain and Ave Maria:
Musical Scores: Night on Bald Mountain by Modest Mussorgsky and Ave Maria, Op. 52 No. 6 by Frank Schubert

Director: Wilfred Jackson

Story Development: Campbell Grant, Arthur Heinemann, and Phil Dike

Art Direction: Kay Nielsen, Terrell Stapp, Charles Payzant and Thor Putnam

Background Painting: Merle Cox, Ray Lockrem, Robert Storms, and W. Richard Anthony

Special English lyrics for Ave Maria: Rachel Field

Choral Director: Charles Henderson

Soprano Solo: Julietta Novis

Animation Supervisor: Vladimer Tytla

Animation: John McManus, William N. Shull, Robert W. Carlson, Jr., Lester Novros, and Don Patterson

Special Animation Effects: Joshua Meador, Miles E. Pike, John F. Reed, and Daniel MacManus

Special Camera Effects: Gail Papineau and Leonard Pickley
Original:
The Sorcerer's Apprentice is based on the poem written by Johann Wolfgang Von Goethe.
The main theme in Dance of the Hours is adapted from the opera La Gioconda composed by Amilcare Ponchielli.
Both The Nutcracker Suite (1892) and The Nutcracker (1892) are inspired by an established story The Nutcracker and the Mouse King (1816) by  E.T.A.  Hoffmann.  The dances in The Nutcracker Suite in Fantasia are inspired by characters appearing in the ballet "The Nutcracker."
The Pastoral Symphony segment is based on Greco-Roman Mythology.
The Toccata and Fugue in D Minor is credited to Johann Sebastian Bach, but the authorship is in dispute. The idea to combine Stokowski's orchestra with abstract animation is credited to Oskar Fischinger.
Fun Facts:
Disney wanted Fantasia to be an ongoing project, having a new edition be released every few years. The plan was to substitute one of the original segments with a new segment, that way audiences could always see a new version of the film.
"From January to August 1941, story material was developed based on additional musical works, including Ride of the Valkyries by Richard Wagner, The Swan of Tuonela by Jean Sibelius, Invitation to the Dance by Carl Maria von Weber, and Flight of the Bumblebee by Nikolai Rimsky-Korsakov, which was later adapted into the Bumble Boogie segment in Melody Time (1948). There was also consideration for a segment inspired by the Polka and Fugue from Schwanda the Bagpiper by Jaromír Weinberger. The film's disappointing initial box office performance and the USA's entry into World War II brought an end to these plans. Deems Taylor prepared introductions for The Firebird by Stravinsky, La Mer by Claude Debussy, Adventures in a Perambulator by John Alden Carpenter, Don Quixote by Richard Strauss, and Pictures at an Exhibition by Mussorgsky "to have them for the future in case we decided to make any one of them." (Wikipedia)
Another segment, Debussy's Clair de lune, was developed as part of the film's original program.
After, 60 years Disney still receives that the Night on Bald Mountain segment terrifies their children.
The Sorcerer from The Sorcerer's Apprentice was secretly modeled after Walt Disney.
There was no instruction for coloring. Disney let the animators choose whatever color they liked.
"The filming of the final "Ave Maria" sequence was plagued by mishaps. To achieve the effect of moving through the scene, several panes of painted glass were used. The whole setup was over 200 feet long and had to be redone three times. The first time the wrong lens was placed on the camera, and the subsequent film showed not only the artwork but the workers scurrying around it. The second time around an earthquake struck the studio, and the shot was once again scrapped. The next morning the shot was redone, the film was shipped to the lab, processed and couriered to the premiere in New York where it was spliced into the final print with only four hours to spare." (IMDB)
The first American film to use stereophonic sound
Salvador Dali made illustrations for Fantasia, but they were discarded.
"The primeval Earth scene was filmed using a mixture of porridge, mud, and other ingredients and was enhanced by animation; apart from the orchestra sequences, it is the only live-action sequence in the whole movie." (IMDB)
Walt Disney was originally going to use fragrances for the segments in the theater.
This is Steven Spielberg's favorite animated film of all time.
Ruby Dandridge was the live-action model for the Hippo.
All segments are instrumental besides Ave Maria which includes vocals.
For the ostriches and alligators, Disney hired the Ballet Russe de Monte Carlo as live-action models. Dancers include Léonide Massine, Tamara Toumanova, Alexandra Danilova, Irina Baronova, Frederic Franklin, Nathalie Krassovska, Milada Mladova, Cyd Charisse, and Marc Platt.
"While perceptions of dinosaurs by both scientists and the public at large have changed considerably since this film was released, aspects of their depiction in the film are considered more progressive and accurate than most of their contemporaries. They were generally depicted in the film as "dynamic and agile" creatures, while most of the contemporary depictions had them as slow-moving reptiles. Certain scenes portray them as social animals and the image of the baby Triceratops staying close to his/her parents implies family life. This was nearly unheard of in contemporary depictions." (IMDB)
Two of the centaurettes whose bottom half is zebra are the first African characters to appear in a Disney film.
Yen Sid (sorcerer) (Disney backwards) is an original character.
"While most of the Centaurettes were unnamed in official Disney publications relating to this film, the official draft of the scenes did assign names to them. The names were used to help the animators working on them distinguish one from the other. The names in order of of appearance in the draft were Sandra, Hilda, Melinda, Judy and Cabina. Melinda was the only name to survive in in official publications about the film. It was assigned to the the centaurette with the pale blue body and yellow hair in pigtails, who receives her own scene. She is depicted sadly sitting under a tree, having been the only centaurette who failed to pair up with a centaur. The cupids play matchmaker and hook her up with Brudus, a male centaur with pale blue skin who was also sad and lonely." (IMDB)
To Be Continued:
Since, Fantasia is such a big project. I decided to break this review into two parts. To be continued till next time. Thanks for reading. Here's the link to the second review:
https://whenyouwishuponastarblog.wordpress.com/2016/06/25/fantasia-part-2/