Welcome Back! We're starting the tale of the lovable elephant, Dumbo. Dumbo is a Walt Disney production in October 23, 1941. It is the 4th of the Walt Disney Animated Canon series. It is the shortest of the Disney animated movies. Dumbo is Walt Disney's favorite movie that his studio has done. It was the first Walt Disney film to be set in America and the first to be actually confirmed to be set in present times. Dumbo won the 1941 Academy Award for Best Scoring of a Musical Picture and was nominated for Best Original Song (Baby Mine). Dumbo originally grossed 1.6 million (the most of the 40's Disney movies). Besides, Snow White, Dumbo was the only other Disney movie to make a profit at the time.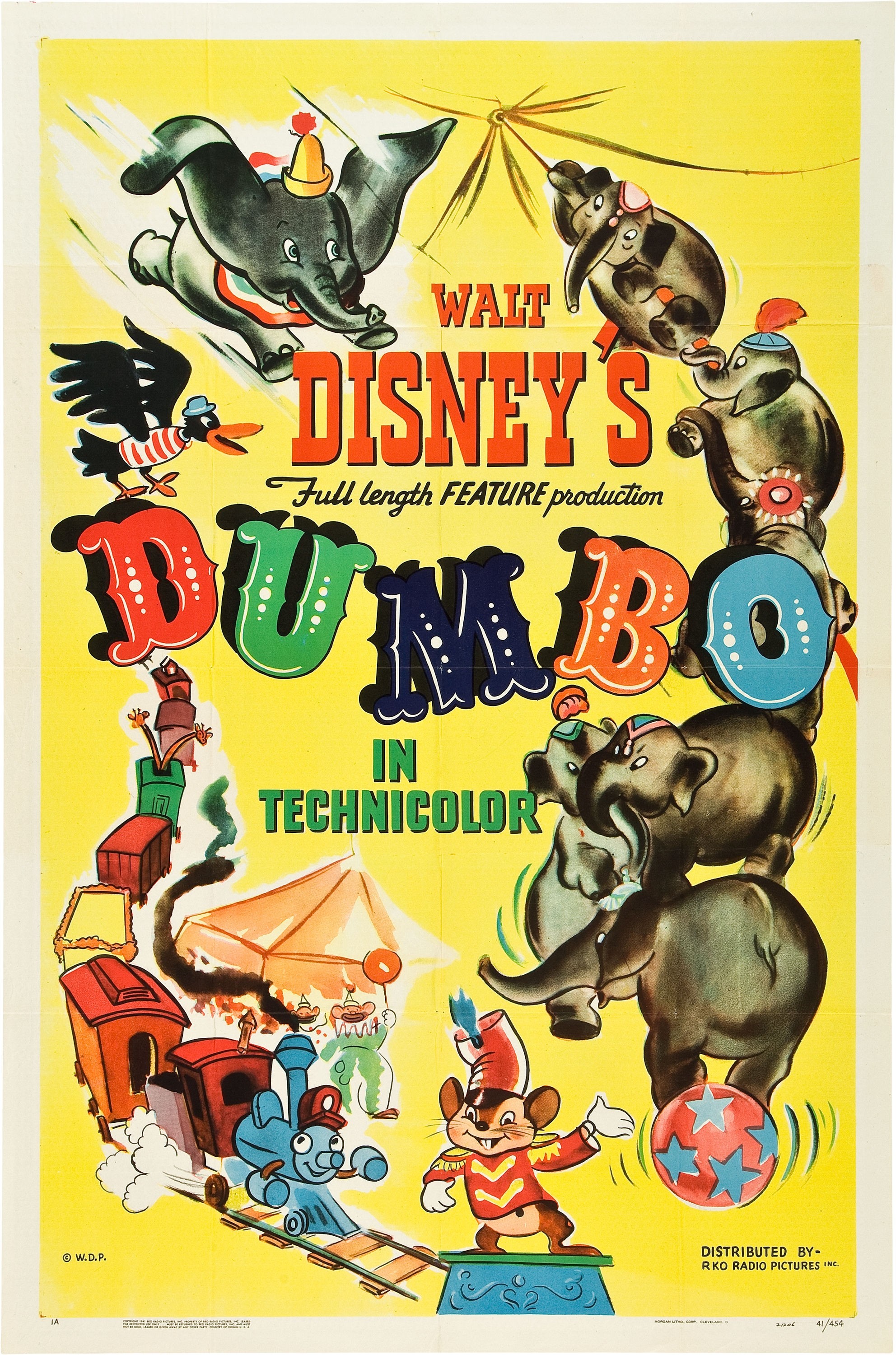 History:
Dumbo was produced by Walt Disney on October 23, 1941 in New York City. It was distributed by RKO Pictures. The budget was 950,000, and the box office was 1.6 million.
Dumbo's supervising director was Ben Sharpsteen (Pinocchio.) Dumbo's sequence directors were Norman Ferguson (Snow White, Pinocchio, Fantasia, Cinderella) Wilfred Jackson (Snow White-Dumbo, Saludos Amigos, Song of the South, Melody Time, Cinderella-Lady and the Tramp), Bill Roberts (Pinocchio-The Three Caballeros), Jack Kinney (Pinocchio, Dumbo, The Three Caballeros, Make Mine Music, Adventures of Ichabod and Mr. Toad, (Popeye), and Samuel Armstrong (Fantasia-Bambi).
The story is by Otto Englander (Snow White, Pinocchio), Joe Grant (Snow White-Dumbo, Saludos Amigos, Make Mine Music, Beauty and the Beast-Fantasia 2000, Monsters Inc., Chicken Little, Up) and Dick Huemer (Fantasia, Saludos Amigos, Make Mine Music, Alice in Wonderland).
Dumbo was mainly created to cover the losses from Fantasia which is why it's the shortest Disney film. Dumbo was brought to Walt Disney's attention in 1939 by his head of merchandising Kay Kamen. Walt really liked the possibilities and its heartwarming story, so he bought the rights for it.
"During the production of Dumbo, Herbert Sorrell, leader of the Screen Cartoonist's Guild, demanded Disney sign with his union, rather than the IATSE, with which Disney had already signed. Disney declined, saying that he would put it to a vote. Sorrel again demanded that Disney sign with his union, but Disney once again refused. On May 29, 1941, shortly after rough animation on Dumbo was complete, much of the Disney studio staff went on strike. A number of strikers are caricatured in the feature as clowns who go to "hit the big boss for a raise". The strike lasted five weeks, and ended the "family" atmosphere and camaraderie at the studio." (Wikipedia)
The Making Of:
Originally, it was going to be a short film, but Disney decided to make it a feature length. The loss from Pinocchio and Fantasia, along with World War 2, Disney was in serious debt. Dick and Joe wrote the script in chapters and very little was changed from the original draft.
Animation:
Ben Sharpsteen was given orders to keep the film as simple and inexpensive as possible, which is why Dumbo does not have as much detail and is much simpler compared to Disney's previous films. Watercolor paint was used for the backgrounds. Snow White and Dumbo are the only classic Disney films to use this technique.
Without the focus on detail, the animators could focus more on acting. "Bill Tytla's animation of Dumbo is today considered one of the greatest accomplishments in American animation." (Wikipedia)
Cast:
Edward Brophy as Timothy Q. Mouse
Verna Felton as Elephant Matriarch and Mrs. Jumbo; Also, played The Fairy Godmother in Cinderella, the Queen of Hearts in Alice in Wonderland, Aunt Sarah in Lady and the Tramp, Flora in Sleeping Beauty, and Winifred in The Jungle Book.
Cliff Edwards as Jim Crow; Jiminy Cricket in Pinocchio
Herman Bing as The Ringmaster
Margaret Wright as The Whistle and Casey Junior
Sterling Halloway as Mr. Stork; Original Voice to Winnie the Pooh, Cheshire Cat from Alice in Wonderland, Kaa in The Jungle Book, Roquefort in The Aristocats, Narrator in The Three Caballeros, Make Mine Music, and other shorts, and Adult Flower in Bambi; Disney Legend.
Hall Johnson as Crow Chorus
The King's Men as Roustabout Chorus
Noreen Gammill as Elephant Catty
Dorothy Scott as Elephant Giddy
Sarah Selby as Elephant Prissy
Malcolm Hutton as Skinny (leader of Mean Boys) and Smitty
John McLeish as the Narrator; the narrator in the how-to Goofy shorts, other shorts, the prosecutor in The Adventures of Ichabod and Mr. Toad, and one of the barkers on Pleasure Island in Pinocchio.
Billy Bletcher as Clowns; Pete, Big Bad Wolf, Horace Horsecollar, and many other shorts.
Betty Noyes as Mrs. Jumbo's Singing Voice
Original Story:
The original story is Dumbo by Helen Aberson and illustrated by Harold Pearl. The book is a "Roll-a-book." (36 pages) The book had illustrations on a scroll, and readers would turn a little wheel at the top of the book to read the next panel.
The original book's sidekick was Red Robin. Disney created Timothy Q. Mouse for the elephants and mice myth.
I've never read the original story, so I don't know how different it is from the movie.
Fun Facts:
Lilo and Stitch drew inspiration from Dumbo, using watercolor backgrounds.
Disney was originally not interested in making the movie. Joe Grant and Dick Huemer wrote the film as installments and left it on Walt's desk every morning. One day, Walt ran into the story department, replying "This is great! What happens next?"
This was Walt Disney's favorite film from his studios.
The cels from Dumbo are the rarest in the industry.
This is the first film for two Disney Regulars: Verna Felton as the Elephant Matriarch and Sterling Holloway as the Stork.
Most of Disney's staff went on strike during the production of Dumbo. Some of the strikers are caricatured as the clowns.
When Timothy and Dumbo were drunk, when Timothy laughs, it's actually Mickey's laugh. When Timothy coughs on the crow's cigar, the cough is also Mickey.
RKO did not want to release Dumbo. They either wanted to make the film longer, make it a short film, or release it as a B Picture. But, Disney refused to do either and stood his ground.
The Jackson Brothers were the live-action models for the crow's sequence.
In the early 2000s, there was to be a Dumbo 2, but it was cancelled.
Disney plans to release a live-action adaption. Tim Burton is the director.
Casey Junior is based on the story "The Little Engine That Could."
This is the first Disney animated film to be set in present times.
This is the first protagonist in a Disney film to have no spoken dialogue.
Timothy was going to sing a song called "Sing a Song of Cheese." It was deleted though, because it had nothing to do with the story.
This is John Lasseter's (Pixar) favorite film.
Accomplishments/Awards:
Dumbo was the most financial successful Disney movie in the 1940s. It only cost 950,000 to produce and grossed 1.6 million originally.
Reviews for the film at its original release were positive. "Variety said that Dumbo was "a pleasant little story, plenty of pathos mixed with the large doses of humor, a number of appealing new animal characters, lots of good music, and the usual Disney skillfulness in technique". Cecilia Ager, writing in PM, called Dumbo "the nicest, kindest Disney yet", and Bosley Crowther, film critic for The New York Times, said that the film was "the most genial, the most endearing, the most completely precious cartoon feature film ever to emerge from the magical brushes of Walt Disney's wonder-working artists"." (Wikipedia)
Dumbo was originally going to be on The Time Magazine in 1941, named Mammal of the Year, but the attack on Pearl Harbor changed that. Dumbo holds a review on Rotten Tomatoes at 97%. Leonard Maltin (Film Critic) considers it one of Walt Disney's most charming movies. In 2011, TIME named it one of the "25 All Time Best Animated Films."
Dumbo won the 1941 Academy Award for Original Music Score. It was awarded to the music directors Frank Churchill (Snow White, Pinocchio, Bambi) and Oliver Wallace (Fun and Fancy Free, Adventures of Ichabod and Mr. Toad, Cinderella-Lady and the Tramp) (He contributed music to nearly 150 Disney films.). Frank Churchill and the lyricist Ned Washington (Pinocchio, Saludos Amigos) were also nominated for the Academy Award for Best Song (Baby Mine). It also won Best Animation Design in the 1947 Cannes Film Festival.
Controversy/Complaints:
"Writer Richard Schickel charged that the crow characters in the film are African-American stereotypes in his book, The Disney Version (1968). The leader crow, played by Cliff Edwards, was originally named "Jim Crow" for script purposes. However, all of the other crows were voiced by African-American actors, who were all members of the popular all-black Hall Johnson Choir. Despite suggestions by writers such as Schickel who have criticized the portrayal as racist, other writers have rejected these claims. Defenders note that the crows form the majority of the characters in the movie who are sympathetic to Dumbo's plight, that they are free spirits who bow to no one, and that they are intelligent characters aware of the power of self-confidence, unlike the Stepin Fetchit stereotype common in the previous decade. Furthermore, the crows' song "When I See An Elephant Fly", which uses intricate wordplay in the lyrics, is oriented more toward mocking Timothy Mouse than Dumbo's large ears." (Wikipedia)
"Jim Crow's name derives from a minstrel show character of the same name. He was created by Thomas D. Rice (1808-1860) in the 1830s. The character as originally depicted was dressed in rags, battered hat and torn shoes. Rice blackened his face and hands and impersonated a very nimble and irreverently witty African American field hand. Crow was a popular and influential character, though later derivative characters and terms have made his legacy controversial." (IMDB)
Alright, so we'll start with the first controversy, the crows. Apparently, the crows are stereotypical African Americans, and shed a negative image. But, that doesn't make any since. 1. The crows are animals; therefore they can't be a certain race, because they are animals. If someone, does see a certain race, which speaks more about the person, rather than Disney. When I watched Dumbo before and now, I only saw some cool crows. I didn't see anything wrong with them. 2. The crows are the good guys in the film. Besides Timothy, his mother, and the stork, everyone else is extremely cruel to Dumbo. The crows are the only other characters that are nice to him. They're also cool and funny. 3. They were all voiced by African Americans, besides the lead crow. 4. The name Jim Crow, has already been explained why it was chosen. The other controversy is the Pink Elephants on Parade sequence where Dumbo and Timothy get drunk. People complain that the lead character is drinking in a children's movie. 1. This was a different time. Smoking and drinking were shown in movies all the time. 2. Dumbo and Timothy do not have a good experience from drinking. They have a really bad experience, so I doubt children will want to drink after watching that. Besides, those two, there aren't really any other controversies.
Setting:
Dumbo is confirmed in the movie to be Florida. On the newspaper clip, its hard to see but I believe it to state March 11, 1941.
Characters:
Jumbo Jr. aka Dumbo: Dumbo is the protagonist of the film. He is a baby elephant with large ears who doesn't speak. He can fly. He is playful and very innocent. His best friend is Timothy and he loves his mother. He likes peanuts and bubble bath, and hates to be alone.
Jumbo: Mrs. Jumbo is Dumbo's mother. She loves her son very much and would do anything for him. She is very sweet and protective of Dumbo.
Timothy Q. Mouse: He is Dumbo's mentor and best friend. He wants to make Dumbo rich, famous, and free Dumbo's mother. He's very smart and loyal.
Stork: Mr. Stork is the one that delivers Dumbo to Mrs. Jumbo.
Elephant Matriarch: She is the leader of the elephants and bullies Dumbo. She wears the pink headpiece.
Prissy: Prissy is one of the elephants that bully Dumbo. She wears the read headpiece. She's close to the Elephant Matriarch, never leaving her side.
Catty: Catty is one of the elephants that bully Dumbo. She wears the green headpiece. She likes to gossip.
Giddy: Giddy is one of the elephants that bully Dumbo. She wears the blue headpiece. She likes to laugh, and is one of the nicer elephants, but still teases Dumbo.
Crows: They're five crows. They help Dumbo learn to fly. They like to joke around, and are very laid-back.
Clowns: Another antagonist, they bully Dumbo.
Ringmaster: The boss of everyone. He is one of the antagonists. He's strict and arrogant.
Casey Junior
Minor Characters: Circus Animals, Bullies, Pink Elephants, Roustabouts
Songs:
Look Out for Mr. Stork:
This song is used to introduce the storks and where the babies come from. It introduces us to the lead character Jumbo Jr.
Casey Junior:
This song is to introduce Casey Junior. It could be used to show that the circus travels to many places.
The Song of the Roustabouts:
This song is to show the negative side of the circus; that the animals and workers have to slave away regardless of the weather.
Baby Mine:
This is the emotional, pulling on your heart-strings song. This is to show how sad and lonely Dumbo is, and how much his mom loves him.
The Clown Song:
Also, known as Hit the Big Boss for a raise; the song doesn't really have a purpose except used to be a caricature of the strike, and move along the story.
Pink Elephants on Parade:
This song doesn't really have a purpose, but it is quite enjoyable. It's the song that Timothy and Dumbo see hallucinations while drunk. The song could be used to show what happens when you drink, possibly.
When I See An Elephant Fly:
The song is used to show how unbelievable it is for an elephant to fly. Then, when he does fly, it is very shocking, and the greatest thing.
Before the Film:
Dumbo is a beloved film, and like most people, I have already seen the film. I do recommend it to adults and children. Some people have said that they find the Pink Elephants on Parade sequence scary, but I don't. So, I would watch it first, before showing children, and decide for yourself if you think it is suitable. You can find clips on YouTube, but you can't find the full movie. I already own the DVD, but you can buy it on EBay for $4.97. http://www.ebay.com/itm/Dumbo-Ws-Aniv-DVD-Sterling-Holloway-Edward-Brophy-James-Baskett-Herman-Bin-/191800035522?hash=item2ca82c48c2:g:C~cAAOSwpDdVdxZi
Warning: This film will most likely make you cry.
Plot:
The storks deliver the baby animals to the parents except Mrs. Jumbo who is very sad to not have a baby yet. We meet Mr. Stork the next day who appears to be lost. Mr. Stork finally finds Mrs. Jumbo and delivers her baby to her. He sings Happy Birthday. She names him Jumbo Jr., but the other elephants see his large ears, and are mean to him naming him Dumbo. Mrs. Jumbo slaps one of the elephants, and slams the door in their face. Then she rocks her baby to sleep.
Then the Song of the Roustabouts plays as the workers and the animals, including baby Dumbo work in the rain. They're helping set up the circus. The next day, the circus comes into town, and the crowd is introduced to the clowns and the animals. As they are walking, Dumbo trips over his ears and falls in some mud. In an adorable scene, his mother gives him a bath.
The children come to view Dumbo, and laugh at him. This one boy especially, makes fun of his ears and Mrs. Jumbo takes Dumbo away. The kid grabs Dumbo, and Mrs. Jumbo grows angry, spanking the kid on his rear end. The ringmaster sees Mrs. Jumbo attacking everyone, and whips her. Then he sends the guards to take her away to a jail.
Dumbo is sad and crying, while the other elephants talk about his mother and him. He tries to go near him, but they won't let him pass. So, he leaves. We meet Timothy Mouse who scares the elephants away and goes to comfort Dumbo. Timothy gives the idea to the ringmaster to be the climax of his new circus act where 17 elephants will stand on a ball on top of each other, and Dumbo will run out with a flag to the top. The day of the circus comes, and all the elephants are waiting for Dumbo. Dumbo trips on his ears and knocks the other elephants over, making people run out, and the elephants get hurt. They make Dumbo into a clown and the other elephants vow that Dumbo is no longer an elephant.
The next scene is Dumbo painted in clown make-up with baby clothes and a rattle. He's on top of the building, and they are on fire. The clowns must rescue him, but they do it in an embarrassing way. Dumbo cries as Timothy cleans him.
They go to visit his mother. It's a very heartbreaking scene as Mrs. Jumbo can only reach Dumbo with her trunk, and rocks him as she sings Baby Mine.
The clowns accidently spill some alcohol in Dumbo's water, and thinking it's water, Dumbo and Timothy drink from it. They soon become drunk and envision the infamous "Pink Elephants on Parade" scene.
Let's just say that it gives Dumbo and Timothy such a fright, that the next morning, they somehow end up in a tree. We meet the crows who Timothy gets in a fight with. They tease him, and with the crow's suggestion Timothy believes that they flew up to the tree. The crows sing "When I See An Elephant Fly" and laugh. Timothy grows mad, and tells them about Dumbo. The crows feel bad and help teach Dumbo to fly. They give him a "magic feather" to help him fly.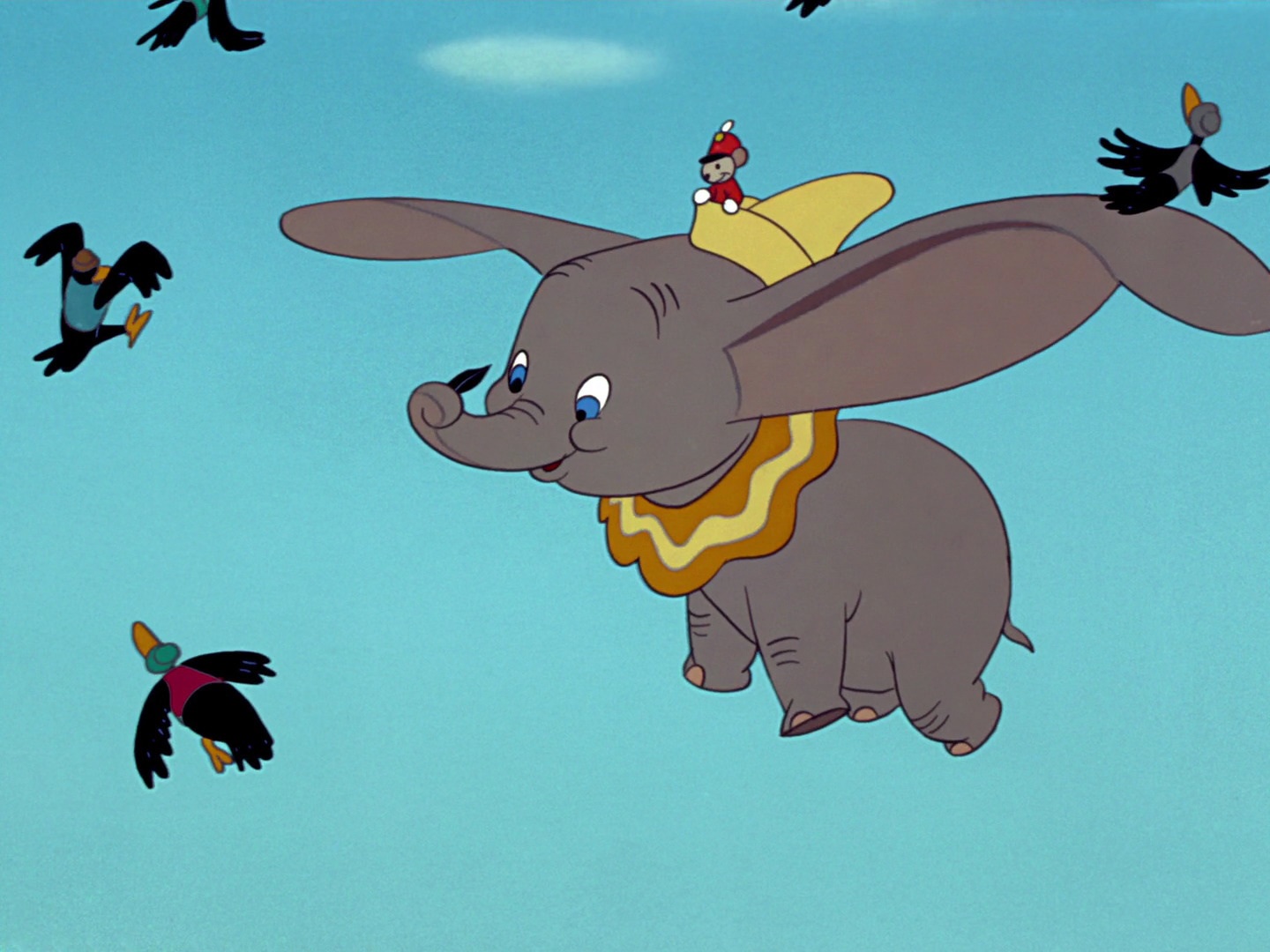 In the next scene, is Dumbo dressed as a clown with the "magic feather." He loses the feather and realizes he can fly on his own. He shocks everyone that he can fly, and shoots peanuts at the elephants, as the clowns run away. Newspapers are shown on what Dumbo has achieved. Dumbo is on his way to Hollywood. The last scene shows Dumbo flying into his mother's arms as they are reunited. The crows wave goodbye and that is the end.
Positive:
Dumbo is a cute, charming movie. It conveys many emotions from happiness to anger to sadness. The animation is really good. The songs are great. The characters are phenomenal, and the voice acting is great. It's a really good, classic film that has been appreciated for decades.
Negative:
Truly, I have nothing negative to say or nothing I can find that I would change about this film. It's short, but sweet and everything in the movie works perfectly.
Overall Opinion:
While, Dumbo might not have beautiful music like Snow White, a complicated story like Pinocchio, or stunning animation like Fantasia, it is still an amazing movie. It's charming and cute, and is a movie that knows how to use all of your emotions. It's a classic movie that has been and will be loved for decades. There's no surprise as to why it's Walt's favorite movie. Overall, I recommend it to children and adults, and give it an A-.
Favorite Character:
My favorite character is the adorable main character, Dumbo. He might not speak, but he captures your heart. He's sweet and innocent like a baby. You really feel for him and wish you could help him. And, you're glad when he gets reunited with his mother and everything works out for him. He's one of Disney's cutest characters.
Favorite Song:
My favorite song is "When I See An Elephant Fly." The song is very catchy and up-beat. I like watching the crows dance. They are really cool.
Favorite Scene:
My favorite scene is the ending. Dumbo is reunited with his mother. He believes in himself, and he is happy. Everyone is happy.
What did you think of the movie? What was your favorite song?
Next, up is Mr. Bug Goes to Town. It was created by the Fleischer Studios, the same people responsible for Gulliver's Travels. Hopefully, this film is better than that one, but we'll see. Well, I hoped you enjoy. Thank you for reading and I bid you Adieu until next time.
(I do not own pictures, videos, etc. My information came from my own knowledge of the film, the Fantasia DVD and bonus DVD, Wikipedia, IMDB, and DisneyWiki.)