Welcome Back! We begin with Disney's classic film, Bambi. Bambi was released August 9, 1942 in London, August 12, 1942 in New York City, and August 21, 1942 in the United States. It was produced by Walt Disney and released by RKO Radio Pictures. It is the 5th film in the Walt Disney Animated Classics Series and the 6th film from Walt Disney. Bambi received three Academy Awards nominations: Best Sound, Best Song, and Original Music Score. Bambi won a golden globe in 1948. The American Film Institute placed Bambi in 3rd best animated film. Bambi is in the National Film Registry. It is also listed in Time's Top 25 Horror films. Bambi is one of Walt Disney's favorite movies. Bambi is the #10 in animation and #50 in highest grossing film of all time adjusted for inflation.
History:
Bambi's supervising director is David Hand (Disney Legend; Snow White, Fantasia, Shorts). The sequence directors are James Algar (Disney Legend; Snow White, Fantasia, Bambi, The Adventures of Ichabod and Mr. Toad), Samuel Armstrong (Snow White, Fantasia, Dumbo), Graham Heid (Pinocchio, Fantasia, Shorts), Bill Roberts (Pinocchio-The Three Caballeros, Shorts), Paul Satterfield (Fantasia, Shorts), and Norman Wright (Fantasia).
The story direction is by Perce Pearce (Snow White, Fantasia, Cinderella). The story adaption is by Larry Morey (Snow White, Adventures of Ichabod and Mr. Toad, Reluctant Dragon). The story development is by Vernon Stallings (Fantasia, Dumbo, Song of the South), Melvin Shaw(The Rescuers- Great Mouse Detective, Beauty and the Beast, Lion King), Carl Fallberg (Snow White, Fantasia & 2000), Chuck Couch (Shorts), and Ralph Wright (Bambi-The Three Caballeros, Peter Pan-Sleeping Beauty, The Jungle Book, The Aristocats, The Many Adventures of Winnie the Pooh).
In 1933, Sydney Franklin (Director/Producer at MGM) purchased the rights to the novel. He intended to make it a live-action film. After, deciding it would be too difficult to make the film, he sold the rights to Walt Disney in April 1937.  Disney started working immediately wanting it to be the second animated film and the firs on a specific, recent work. The problem was that the novel was meant for an adult audience, which was too grim for a Disney movie. The artists also had trouble making realistically deer. Disney put Bambi on hold. In 1938, he assigned Perce Pearce and Carl Fallberg to start making storyboards, but then attention was needed for Fantasia. In 1939, Bambi finally started making production.
There were many interpretations to the story. "The story of Bambi had a so many possibilities; you could go off on a million tangents. I remember one situation when Walt became involved with himself. He said 'Suppose we have Bambi step on an ant hill and we cut inside and see all the damage he's done to the ant civilization'. We spent weeks and weeks developing the ants, and then all of a sudden we decided, you know, we're way off the story, this has got nothing to do with the story of Bambi. We also had a family of grasshoppers, and they get into a family squabble of this or that, and Bambi is watching all of this, and here's the big head of Bambi in the grasshoppers. And what's that got to do with the story, and this would go on many times." (Wikipedia)
Originally, like the dwarfs in Snow White, there were to be 6 individual bunny characters. Instead, they decided to focus more on the three friends, and made the 5 other rabbits Thumper's sisters who don't really have any personalities.
Also, originally Bambi's mother was to be shot jumping over a log and dyeing. Larry Morey thought this was too dramatic and instead changed it to a more emotional scene. Walt Disney was eager to show man burned to death by his fire that he started, but that was changed to not showing man at all.
Another scene was involved where two autumn leaves would converse like an old married couple before parting ways and falling to the ground. Disney didn't think that the flora worked, and instead used two realistic leaves falling to the ground.
Disney also developed two characters, a squirrel and chipmunk, to be comic characters like Laurel and Hardy (comedy act of early classic Hollywood). Walt changed it to focus more on the three friends.
The film finished in July 1940. The budget was 1.7 million, but it only grossed back 1.6 million. Bambi was released during World War 2, and lacked access to the European market. It eventually earned back 267.4 million.
The Making Of:
Animation:
While, the animators did have some experience in animating deer in Snow White, they described the deer as "big sacks of flour." Disney wanted the animals to be realistic and expressive. Rico LeBrun (painted animals) came and lectured the animators on the structure and movement of animals. Also, the animators would visit the Los Angeles City Zoo. Disney even set up a small zoo at the studio, with animals like rabbits, ducks, skunks, owls, and a pair of fawns named Bambi and Faline.
Rico could develop realistic animals, but his characters didn't have any personality. Mark Davis created the final design of Bambi. He used Rico's realistic combined with exaggerating Bambi's face by making his proportions baby-like.
No humans were actually seen in Bambi. There was live-action of humans. Actress Jane Randolph and Donna Atwood acted as live-actions references to the scene where Bambi and Thumper are ice-skating.
The backgrounds of Bambi were inspired by Eastern American woodlands. Maurice "Jake" Day spent weeks in Vermont and Maine's forests, sketching and photographing deer, fawns, and surrounding wilderness areas. His first sketches were too busy. Tyrus Wong (Chinese animator) showed Day his impressionistic paintings of a forest. Day liked his paintings and appointed him art director of the film.
Since, World War 2, resulted in financial loss from Pinocchio and Fantasia, Disney had to cut the last 12 minutes of the film to save cost.
Cast:
Bobby Stewart as Baby Bambi
Donnie Dunagan as Young Bambi; United States Marine Corps Drill Instructor
Hardie Albright as Adolescent Bambi; The Scarlet Letter, The Jade Mask
John Sutherland as Young Adult Bambi; The Beach Party, Rhapsody of St.
Peter Behn as Young Thumper
Tim Davis as Adolescent Thumper
Sam Edwards as Young Adult Thumper
Paula Winslowe as Bambi's Mother and the Pheasant
Stan Alexander as Young Flower
Tim Davis as Adolescent Flower
Sterling Holloway as Young Adult Flower; Shorts, Dumbo- Mr. Stork, The Three Caballeros- Professor Holloway, Make Mine Music and Fun and Fancy Free- Narrator, Alice in Wonderland- Cheshire Cat, The Jungle Book- Kaa, The Aristocats- Roquefort, The Many Adventures of Winnie the Pooh- Winnie the Pooh; Disney Legend
Will Wright as Friend Owl; Adam's Rib, All the King's Men, Niagara
Cammie King as Young Faline; Gone with the Wind, Glorious Technicolor
Ann Gillis as Young Adult Faline; 2001: A Space Odyssey, In Society
Fred Shields as Great Prince of the Forest; Narrator- Saludos Amigos, The Three Caballeros, many Disney shorts
Margaret Lee as Mrs. Rabbit; The Smart Set-up, His Angel Child, Old Lace
Mary Lansing as Aunt Ena and Mrs. Possum; Andy Griffith Show, Bewitch
Otis Harlan as Mr. Mole; Happy- Snow White
Music:
The music is by Frank Churchill (Snow White, Pinocchio, Dumbo) and Edward H. Plumb (Saludos Amigos-Make Mine Music, Peter Pan, Lady and the Tramp).
Original Story:
Bambi is based on "Bambi, a Life in the Woods" by Felix Salten. In the original book, Bambi was a roe deer, but in the movie Bambi is a white-tailed deer. The reason Walt changed Bambi's species was because; American audiences would not be familiar with a roe deer.
Austrian writer Felix Salten (real name Siegmund Salzmann) – an insurance clerk who began to write out of boredom – got the inspiration for his novel during a trip to Italy when he became fascinated with the Italian word "bambino" which means small boy.
The original novel "Bambi, a Life in the Woods" (1923) is not a work intended for children and Walt Disney toned down much of the material. By one description of the novel, it consists of 293 pages packed with blood-and-guts action, sexual conquest and betrayal. The forest characters include cutthroats and miscreants, including six murderers.
The character of Thumper (called Bobo in the first draft) does not appear in Felix Salten's original novel. He was added by Walt Disney to bring some much-needed comic relief to the script.
In the original novel, Bambi and Faline are first cousins. Faline is the daughter of Aunt Ena, the sister of Bambi's mother. Walt Disney probably discarded this detail because a mating of first cousins would be considered incest.
One of the discarded characters from the original novel is Gobo. He is featured in the novel as Faline's twin brother and Bambi's first cousin. His death is a major plot point of the novel. Gobo was found by a man while wounded, nursed back to health, and released back into the wild. He concluded that men should not be feared and later willingly approaches a hunter who simply kills him.
One key scene of the novel missing of the film is Bambi's realization that man is neither all powerful, nor immortal. It comes when the Prince of the Forest shows Bambi the corpse of a man shot by a fellow human.
Fun Facts:
Whenever the animals would say "Man is in the Forest," it was code for Walt Disney was coming down the hallway.
Walt Disney insisted on having children voice the animals when they are young instead of adults mimicking children's voices, which was unusual during the time.
"No matter how skilled the animator, the Disney cartoonists simply could not draw Bambi's father's antlers accurately. This was because of the very complicated perspectives required. To get round the problem, a plaster cast was made of some real antlers which was then filmed at all angles. This footage was then rotoscoped onto animation cels." (IMDB)
2 Asteroids have been named after Bambi and Thumper.
The first Disney movie to not have the songs sung by any of the characters, but be in the background.
The animation from Bambi has been reused the most from any of the other Disney films. Usually animals, leaves, and similar things like that. Only a few of the major characters have been used: Bambi's mother has appeared in the first shot of Beauty and the Beast, the quarry in The Sword in the Stone and The Jungle Book, and both Bambi and his mother appear in The Rescuers.
Peter Behn (the voice of thumper; 6 yrs.) auditioned for the voice of Mother Rabbit's other children. Peter said the line "Did the young prince fall down?" The casting director hated it and yelled to get the kid out of there, he can't act. The animators loved his voice and brought him back. The character of Thumper was created largely based on his performance.
The last full-length animated film until Cinderella. The gap was because the lack of workers (World War 2) and materials necessary to make the film.
Animators spent a year studying and drawing deer and fawns to perfect the look of Bambi and his friends.
Donnie Dunagan the voice of young Bambi, was the model for Bambi's facial expressions.
Frank Churchill who died 2 months before the film premiered. He put in one request that the song "Love is a Song" be dedicated to his wife, Carolyn. Walt Disney had to deny the request because the song had already gone to the publisher.
Bambi's rival is named Ronno.
Thumper did not appear in Felix Salten's original draft. He was brought in to add comic relief.
Some of the scenes from the woodland creatures and the fire are from Pinocchio.
Donnie Dunagan was the voice of Young Bambi. He joined the marines, but kept his role quiet for fear of being teased. He had a remarkable career in the service, he became the youngest drill instructor in history, rising to the rank of Major and serving in the Vietnam army where he was decorated for valour and wounded 3 times.
Bambi is set in present day.
"The movie is responsible for the so-called "Bambi-confusion" ("Bambi-Irrtum") in German-speaking countries. In the book Bambi is a roe-deer (German: Reh). But since there are no roe-deer in the US, Walt Disney changed Bambi's appearance to that of a white-tailed deer, which in turn is unknown in Europe. However, both the original German-dubbed version from 1950 and the re-dubbing from 1973 stuck to the original Felix Salten version and called Bambi a roe-deer instead of a stag (German: Hirsch), which would be a lot more correct. Since the appearance of Bambi's father and Bambi in adult life resemble a red deer (which is common in Europe) a lot closer than an adult roe-deer, kids in German-speaking regions for the past 60 years have come to believe that a Reh (roe-deer) is the younger version of a (Rot) Hirsch (Red deer). This confusion has never really been cleared up for many so that this is now even taught to children by their parents who saw the movie when they were young." (IMDB)
"Sidney Franklin originally initiated "Bambi" as a film project in 1933, envisioning it as a live action film. He had even gone to the stage of recording Margaret Sullavan and Henry Fonda's voices. Eventually he realized that the technology simply wasn't adequate enough to make the film. After seeing Snow White and the Seven Dwarfs (1937), it dawned on Franklin that there was someone who could realize "Bambi" as a movie. So he contacted Walt Disney who immediately leaped at the idea of working on the project. Disney started work on the film in 1936, though he was also developing Fantasia (1940), Dumbo (1941) and Pinocchio (1940) at the same time. All this explains why there is a dedication in the film's opening credits "To Sidney A. Franklin – our sincere appreciation for the inspiring collaboration". (IMDB)
"To design Bambi's scenes, Walt Disney traveled to Argentina in 1941, and there he was inspired in the forests of Neuquén province in the southwest of that country." (IMDB)
The world premiere of Bambi was originally to take place in tiny Lincoln Center Theater in Damariscotta, Maine. Maurice Day was the animator who brought Bambi's novel to Bambi. Walt Disney wanted to thank Maurice by holding the premiere in his home town. The state of Maine objected, because they feared that hunters would object to the film.
"When Bambi is fighting Ronno. It's easy to tell who's winning when you look at the colors in the background. When Ronno is winning the colors are green, blue, and black. When Bambi is winning, the colors are yellow, orange, and sometimes pink." (IMDB)
Both Thumper and Flower are original creations.
The release gap between the film and its sequel Bambi II (2006) was 64 years. It holds the world record for the longest span of time between two consecutive installments of a franchise.
"There is a minor animal character in the Marvel Comics series "Defenders" called Bambi. He is named after the Disney character, since he is a young deer who had his mother shot by hunters. He was created by Steve Gerber and Sal Buscema and used in a few stories in 1976." (IMDB)
Originally, Bambi was supposed to find his mother's body after she was shot, and find her in a pool of blood. That idea was rejected.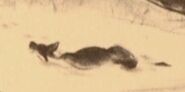 "Many movie-watchers in the 1940s were not prepared to see killing in any Disney movies at that time. Which is pretty common nowadays showing the protagonist's relative, spouse, or parent killed in movies to make a deeper, and sadder story. This was the first Disney film to bring this out to the public."
Accomplishments/Awards:
While, originally it did not receive well, today Bambi is considered a classic. It has recouped its losses plus earned a lot more. The film holds a 97% on Rotten Tomatoes. Critics Mick Martin and Marsha Porter call the film "the crowning achievement of Walt Disney's animation studio." English film critic and historian Leslie Halliwell wrote that Bambi was "one of Disney's most memorable and brilliant achievements with a great comic character in Thumper and a climactic forest fire sequence that is genuinely thrilling". He concluded that it was "…a triumph of the animator's arts."
In 2008, the American Film Institute's Top 10 animated films, Bambi was #3. It is listed in Time Magazine's Top 25 Horror Movies of all time. Time states "has a primal shock that still haunts oldsters who saw it 40, 50, 65 years ago."
The villain Man has been placed 20 on AFI's List of Heroes and Villains. "Some critics have cited parallels between Frank Churchill's theme music for "Man" (which consisted of 3 simple notes) and John Williams's theme music in Jaws (which consists of two notes)." (Wikipedia) Paul McCartney (Beatles) credits Bambi as his interest in animal rights.
After, Bambi was released; Disney allowed his characters to appear in fire prevention campaigns. Bambi was only loaned to the government for a year, which resulted in the government creating Smoky the Bear.
"In 2006, the Ad Council, in partnership with the United States Forest Service, started a series of Public Service Announcements that feature footage from Bambi and Bambi II for wildfire prevention. During the ads, as the Bambi footage is shown, the screen will momentarily fade into black with the text "Don't let our forests…become once upon a time", and usually (but not always) ending the ads with Bambi's line "Mother, what we gonna do today?" followed by Smokey Bear saying "Only you can prevent wildfires" as the Smokey logo is shown on the screen. The ads air on various television networks, and the Ad Council has also put them on YouTube" (Wikipedia)
In 2011, Bambi was selected for preservation in the National Film Registry. Bambi was nominated for 3 Academy Awards in 1943: Best Sound Recording, Best Music Original Song (Love is a Song), and Best Music Scoring of a Dramatic or Comedy Picture. In 1948, Bambi won a Golden Globe special award for furthering the influence of the screen. In 1988, Bambi won a Genesis award for feature film- classic. In 2015, Bambi won the Online Film & Television Association's Motion Picture. In 2015, it was nominated for the Satellite Awards Outstanding Youth DVD.
Controversy/Complaints:
When Bambi originally aired, it had mixed reviews from critics. Mainly, the reasons were because, Bambi did not have fantasy elements and objection towards a dramatic story of animals and their struggle to survive in the woods and avoid the threat of humans. Hunters hated the movie and would speak out against it.
The 1942 edition of Outdoor Life the editor Raymond Brown wrote that the film was "the worst insult ever offered in any form to American sportsmen." The New York Times claimed, "In the search for perfection, Mr. Disney has come perilously close to tossing away his whole world of cartoon fantasy." Film Critic Manny Farber called it "entirely unpleasant" and agreed with the NY Times saying "In an effort to trump the realism of flesh and blood movies, he [Disney] has given up fantasy, which was pretty much the magic element." Disney's daughter, Diane, complained that Bambi's mother did not need to die. Walt claimed he was only following the book, Diane protested, saying he's taken other liberties before.
While, there isn't nearly as much controversy when Bambi first appeared. I've still seen a few recent complaints toward Bambi's depiction of Man. People have stated that hunting is not evil and that they find Bambi to be offensive to hunters. The problem with that is Bambi is portrayed through the animal's point of view. Regardless, if its humane or not (which Man is not humane), Bambi and the others, don't want to die. In their eyes, Man is someone who is trying to kill them. For example, if a tiger came and killed your family, and then was looking to kill you; wouldn't you consider the tiger a villain, even though it was only doing what tigers do. The tiger in this example is the Man in Bambi. Also, the Man in Bambi isn't even a ethical hunter. I'm pretty sure most of the things he/she is doing are illegal. The Man sent his hounds after them, killed a baby deer's mother who normally wouldn't be able to survive without the mother, was going to kill Bambi when he was little, and hunted animals that weren't in season. Along, with setting the forest on fire. As mentioned, I don't think any of those things are illegal. So, with that said Bambi does no depict hunters a s evil.
Setting:
Bambi's setting is not confirmed in the movie. "The forest in the two films is a compilation of various forests in the State of Maine. In both films, the producers went to Maine and have taken thousands of photos of local forests. Many places that are seen in Bambi 1 and 2, exist in reality. One of these places are sections of the Hunt Trail in Baxter State Park in Northeast Piscataquis, ME. Also in the first film, there is a scene where, possibly, the Mount Katahdin can be seen. As Bambi at night on the Hunter camp looks are widely seen in the background the outline of a very high mountain, which is very similar to Mount Katahdin from a determinate perspective. From the perspective, from which the Mount Katahdin is shown, Bambi must have been on the Lunksoos Mountain, which has a large rocky outcrop like in the movie." (DisneyWiki) (all mountains listed are in Maine)
With all that said, I would agree that Bambi most likely takes place in Maine or at least in a Northeastern state. Most of the species are native to the United States, the white-tailed deer are only native to North and South America. It also seems to be modern-day, so the 1930s or early 1940s.
Characters:
Bambi: The protagonist of the film. He is a white-tailed deer, who starts off as a baby and grows to become an adult. He is very shy, and his first words are bird. He likes to play. His best friend is Thumper and his love interest is Faline. In the end, of the film he becomes a father and the prince of the forest.
Bambi's Mother: The mother of Bambi. She loves her son and is a very good mother. She would do anything for him, and in the end she dies for him.
The Great Prince of the Forest: The father of Bambi. Not much is known about him except that he is the protector and watcher of the forest and is there for Bambi when he truly needs it.
Thumper: He is best friends with Bambi. He starts off as a little rabbit and becomes an adult. He is very honest, and usually doesn't think before talking, which gets him scolded from his mother. He gets annoyed with his sisters. He likes to play and eat blossoms. He tends to thump the ground, and he scrunches his nose when he speaks. In the end, he falls in love with a girl rabbit and has babies.
Flower: He is also friends with Bambi and Thumper. He starts off as a young skunk and then becomes an adult. He is very sweet and gets embarrassed easily. He likes to sleep. In the end, he also falls in love with a girl skunk and has babies.
Faline: The love interest of Bambi. She meets Bambi as a young deer, and is very playful, likes to tease Bambi. They eventually meet again as adults, where Bambi fights for her and saves her. In the end, she becomes a mother to twins.
Ronno/Rival: The rival of Bambi. He bullies Bambi wanting to claim Faline as his own, but Bambi won't let him, and protects her. They end up fighting, but he loses.
Friend Owl: He is an old owl who helps give advice to Bambi and his friends. While, he is cheerful most of the time, he can have a grumpy attitude. He dislikes springtime. He likes to sleep.
Man & Hunter Dogs: The villains of the movie. The man is never seen signifying that man could be anyone. Man kills Bambi's mother, a pheasant, and attempts to kill Bambi and Faline. The dogs chase after them, but are crushed by rocks. He also starts a huge fire that kills the forest. He is never seen in the film, so his fate is unknown.
Minor Characters: Woodland Animals, Faline's Mother, Thumper's Mother & Sisters, Thumper's spouse, Flower's spouse, Bambi's Children
Songs:
Love is a Song: This song plays over the credits in the beginning of the movie. It doesn't really have a purpose, but it does make the credits more enjoyable and it is a pretty song.
Little April Shower: This song plays when it is raining. It shows how Bambi would react to a thunderstorm, and has amazing animation. The animation goes very well with the song.
Let's Sing A Gay Little Spring Song: This is the song after Bambi's mother death. It is used to focus less on that scene and that spring is now here. Everyone is in love and happy. It also introduces Bambi and his friends as adults.
Looking for Romance (I bring you a Song): This song is used to show the romance of Bambi and Faline. They frolic in the meadow, and there is color and flowers everywhere. Along, with the leaves flying everywhere.
Before the Film:
Bambi is a classic film that most people have seen. It is very sad. It is appropriate for children. I quite like this film even though it has been awhile since I've seen it. I already own the DVD, but for those who haven't seen the film or would like to re-watch it (I was actually surprised to find it on YouTube.
Warning: This film will most likely make you cry.
Plot:
Basically, Bambi is about a deer who is born. He becomes friends with a rabbit named Thumper and a skunk named Flower. You experience all of his firsts from him talking, walking, thunderstorm, ice skating, and similar actions. You meet his love interest, Faline who is a playful deer. Then Man comes into the forest and kills Bambi's mother. Bambi looks for her, until The Great Prince of the Forest (his dad) tells him she is gone. He sheds a tear and looks back. Spring is here, also known as twitterpatted season. Everyone is in love except Friend Owl who tells Bambi and friends that twitterpatted is basically when you fall in love. Neither believe him and they walk away. One by one, Flower falls in love, Thumper falls in love, and then Bambi falls in love with Faline. Ronno comes along, and they fight, but Bambi wins. Then Man comes back and tries to hunt them, but fails. The fire that man caused rages through the forest, destroying everything. Bambi and The Great Prince rescue everyone. Thumper and Flower have children. Bambi and Faline have children. Bambi and his father are now The Great Princes of the forest and watch on.      The End
Positive:
One of the great things is that they decided to not show man. It really signifies that anyone could be man. Also, I am really glad they didn't show the death of the mother or her body. I think that would've been too gruesome especially for the 1940s. And, I think the movie works better this way. It's a lot more memorable, because of that choice.
I think one of the reasons that make Disney great is their characters. They really know how to create characters, and choose great voice actors. Disney has a lot of characters, and when you really think about it, there are very few characters that aren't that great. Well, Bambi is no exception to that. The thing that makes Bambi really great is its characters. Bambi is a shy little deer who really comes into his own, Faline is a feisty little thing, Thumper is a great side-kick who is hilarious, Flower is sweet and adorable, Friend Owl is wise and a good advisor, Bambi's mother is a great mother who you can see how much she loves her son, The Great Prince is majestic and powerful, and Man is a great villain who you fear and know he is evil.
The animation in Bambi is stunning. It is beyond gorgeous and all the hard work that they put into this film clearly shows. Bambi is probably at least in the top 5 if you're comparing just animation.
The story is very good. There are a few problems, but for the most part it holds up really well. Most people don't believe that Bambi came out in the 1940s. The best way to describe Bambi to someone who's never seen it, is to say it's basically an animated nature documentary.
The music in Bambi is really good, which is expected since Frank Churchill was a part of it. The music isn't as memorable as other Disney films, but I think the reason is because none of the characters sing any of the songs. The music is in the background, but I think that works better for the movie. The character's personalities don't really fit if they were to sing. So, I think they made a good call having them not sing. The songs are also very effective in the movie (particularly the Little April shower song) and help to move the story along.
Negative:
Now, I know I just said that it was great that they didn't show man, which I still agree, but I wish that they had. Originally, they were going to show Man burned to death from the fire he caused, and I think that would've been great. It could really show that they're consequences to your actions. They wouldn't even have to show the whole body, it could be like just a hand or a foot on the ground, covered by fire, or something like that. That way they could still signify that anyone could be man, but also show that they're consequences to your actions.
Also, it would've been kind of nice to see some natural predators, like a fox, a bear, or wolves. Since, there isn't really any conflict until closer to the end of the movie. And, predators are a natural things. It's not necessary, but I think it would've been nice to include.
There aren't a lot of things that bug me in the movies. Most of the stuff I find negative, aren't really negative, but things that I had wished they had done, but they didn't have to do. The one part that does bug me is right after Bambi's mother dies; he looks for her, and then all of a sudden, boom, happy lovingness. Like, what? You can't make something that traumatic and then basically pretend like it didn't happen. I mean maybe since it's the 1940s, and the death scene was hard enough, that the audience needed to get away from it or I don't know. But, it would have been great if they spent more on it. They could spend time on how Bambi deals with that or what happens to him after. Yes, I know there is a sequel and its actually not that bad. But, the sequel was made almost 70 years later. It's not the same writers, animators, Walt Disney, or anything like that. So, there's no way to know if that was what they would've wanted to happen. And, I think it would've worked better in the first one. The sequel should've focused on Bambi's children or could've been a prequel to Bambi's parents.
Overall Opinion:
Bambi is basically a coming-of-age story. It has top notch animation, beautiful music, brilliant characters, great voice actors, and a fantastic story. The only downside to Bambi is how it basically skips Bambi's mothers death scene and the impact it had on Bambi. Besides, that the film is perfect the way it is. It is one of Walt Disney's greatest films and will always be a memorable classic. It is great for children and adults alike. Overall, I recommend the movie and rate it an A.
Favorite Character:
My favorite character is the title character, Bambi. Bambi is absolutely adorable. He's really shy like me and very curious. He's sweet and innocent like Dumbo. And, as he gets older, he's still a great character. He retains that sweetness while becoming more sure of himself. He's a great character.
Favorite Song:
My favorite song is Little April Shower. I think the animation during that song is absolutely stunning and it really fits the song. You can see how curious Bambi is and can feel his fear. The song is extremely catchy. It's quite a beautiful song, and is in my top 20 favorite Disney songs.
Favorite Scene:
My favorite scene is when Bambi and Thumper are ice skating. Every scene with Thumper is hilarious, and this scene is no different. Bambi looks adorable. The animation is beautiful.
What did you think of the movie? Who was your favorite character?
Next, up is a Disney classic, Saludos Amigos. It is the end of Disney's Golden Age and onto Disney's package films. (Along with other movies) Saludos Amigos was released in 1942. I've seen Saludos Amigos, but it was such a long time ago that I don't remember much that happens.
(I do not own pictures, videos, etc. My information came from my own knowledge of the film, the Bambi DVD and bonus DVD, Wikipedia, IMDB, and DisneyWiki.)