Welcome Back! We begin with the first of Disney's package films, Saludos Amigos. Saludos Amigos is the 6th animated feature in the Walt Disney Animated Canon. It was produced by Walt Disney and released by RKO Radio Pictures. Saludos Amigos is half live-action and half animation. It includes four segments: Lake Titicaca, Pedro, El Gaucho Goofy, and Aquarela do Brasil. Saludos Amigos was released on August 24, 1942 in Rio de Janeiro and February 6, 1943 in Boston (US). It was nominated for three academy awards in 1943.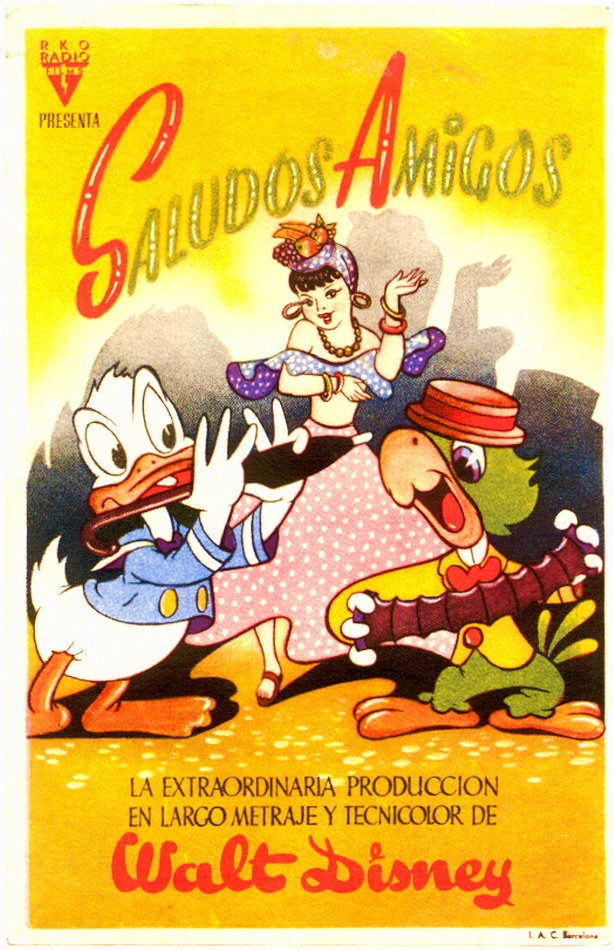 History:
Saludos Amigos is directed by Norman Ferguson (Three Little Pigs, Snow White-Fantasia, The Reluctant Dragon, Three Caballeros, Cinderella-Peter Pan), Wilfred Jackson (Steamboat Willie (Composer), Snow White-Dumbo, Song of the South, Melody Time, Cinderella-Lady and the Tramp), Jack Kinney (Pinocchio, Dumbo-Adventures of Ichabod & Mr. Toad), Hamilton Luske (Pinocchio, Fantasia, Reluctant Dragon, Make Mine Music-Fun & Fancy Free, Cinderella-Lady and the Tramp, 101 Dalmatians, Mary Poppins), and William Roberts (Snow White-The Three Caballeros, Fun and Fancy Free).
Saludos Amigos was written by Homer Brightman (The Three Caballeros-Cinderella, Shorts), William Cottrell (Snow White, Pinocchio, The Three Caballeros, Melody Time, Alice in Wonderland, Peter Pan), Richard Huemer (Fantasia, Dumbo, The Three Caballeros, Make Mine Music, Alice in Wonderland, Lady and the Tramp), Joseph Grant (Snow White-Dumbo, The Three Caballeros, Make Mine Music, Beauty and the Beast-Fantasia 2000, Treasure Planet, Home on the Range), Harold Reeves, Ted Sears (Snow White, Pinocchio, The Three Caballeros, Fun and Fancy Free-Peter Pan, Sleeping Beauty), Webb Smith (Snow White-Dumbo, The Three Caballeros), Roy Williams (The Three Caballeros, Make Mine Music), and Ralph Wright (Bambi-The Three Caballeros, Peter Pan-Sleeping Beauty, The Jungle Book, The Aristocats, Many Adv. of Winnie the Pooh; Voice of Eeyore).
Saludos Amigos was popular enough that Walt Disney decided to make another film about Latin America, The Three Caballeros. It had positive reviews and was only reissued once. In 1949, it was shown with Dumbo. Basically, this movie was created to gain back some money, because of World War 2.
"In early 1941, before U.S. entry into World War II, the United States Department of State commissioned a Disney goodwill tour of South America, intended to lead to a movie to be shown in the US, Central, and South America as part of the Good Neighbor Policy. This was being done because several Latin American governments had close ties with Nazi Germany, and the US government wanted to counteract those ties. Mickey Mouse and other Disney characters were popular in Latin America, and Walt Disney acted as ambassador. The tour, facilitated by Nelson Rockefeller, who had recently been appointed as Coordinator of Inter-American Affairs (CIAA), took Disney and a group of roughly twenty composers, artists, technicians, etc. from his studio to South America, mainly to Brazil and Argentina." (Wikipedia)
This film includes live-action documentary sequences of modern Latin American cities with skyscrapers and fashionably dressed residents. It surprised US residents, because viewers only attributed those things to Europe and the United States. It contributed a changing impression of Latin America. "Film historian Alfred Charles Richard Jr. has commented that Saludo Amigos "did more to cement a community of interest between peoples of the Americas in a few months than the State Department had in fifty years." (Wikipedia)
"The film also inspired Chilean cartoonist René Ríos Boettiger to create Condorito, one of Latin America's most ubiquitous cartoon characters. Ríos perceived that the character Pedro, a small, incapable airplane, was a slight to Chileans and created a comic that could supposedly rival Disney's comic characters." (Wikipedia)
Cast:
Lee Blair as Himself; Animator for Disney Shorts, Art Supervisor for Saludos Amigos, Writer for Fantasia- Toccata and Fugue
Mary Blair as Herself; One of Disney's (if not the) most influential Disney Animators, Animator/Art Department for Saludos Amigos-Make Mine Music, Song of the South, So Dear to My Heart, Melody Time- Peter Pan
Pinto Colvig as Goofy; Voiced Oswald, Pluto, Goofy, Practical Pig, Mortimer Mouse, Other Short Characters, Snow White: Grumpy and Sleepy, Aracuan Bird- The Three Caballeros & Melody Time, Ichabod Crane's Screaming, Flamingo in Alice in Wonderland, Maleficent's Goons in Sleeping Beauty, Gabby in Gulliver's Travels, Bluto in Popeye, Mr. Creeper in Mr. Bug Goes to Town, The Munchkins in The Wizard of Oz, and more
Walt Disney as Himself; the creator of Disney and voices Mickey
Norman Ferguson as Himself; Animator for Snow White-Fantasia, Cinderella-Peter Pan, Director for Pinocchio-Dumbo, The Three Caballeros, Production Manager for Saludos Amigos & Three Caballeros
Frank Graham as Himself; Voices many characters in Disney Shorts
Clarence Nash as Donald Duck (dubbed the Portuguese, Spanish, and Italian Versions); Voices many other characters in shorts, voice of Donald Duck in shorts, Saludos Amigos, The Three Caballeros, Fun and Fancy Free, the snarling bear in The Fox and the Hound, donkeys in Pinocchio, bullfrog in Bambi, and Mr. Bluebird in Song of the South
Jose Oliveira as Jose Carioca (Dubbed the Brazilian Portuguese, Spanish, and Italian versions, also was the narrator for the Italian Version); Also, voices Jose in The Three Caballeros
Fred Shields as Narrator; Voices the Great Prince in Bambi and the Narrator in The Three Caballeros
Frank Thomas as Himself; Animator for Snow White- Bambi, The Three Caballeros, Melody Time-The Fox and the Hound, Writer for The Aristocats, Robin Hood, and The Rescuers, Storyboard Artist for Watership Down and The Secret of NIMH, and Story Consultant for Little Nemo: Adventures in Slumberland.
Music:
The music is by Paul J. Smith (Snow White-Fantasia, Bambi, The Three Caballeros, Fun and Fancy Free, Melody Time, Cinderella) and Edward H. Plumb (Fantasia-Fun and Fancy Free, Cinderella, Peter Pan, Lady and the Tramp).
The original score was composed by Edward H. Plumb, Paul J. Smith, and Charles Wolcott (Pinocchio, Bambi-Fun and Fancy Free, The Adventures of Ichabod and Mr. Toad, Song of the South, The Reluctant Dragon. Charles Wolcott and Ned Washington (Pinocchio, Dumbo) wrote the title song, Saludos Amigos.
"The film also featured the song "Aquarela do Brasil", written by the popular Brazilian songwriter Ary Barroso and performed by Aloysio De Oliveira, and an instrumental version of "Tico-Tico no Fubá", written by Zequinha de Abreu. "Aquarela do Brasil" was written and first performed in 1939, but did not achieve much initial success. However, after appearing in this film it became an international hit, becoming the first Brazilian song to be played over a million times on American radio." (Wikipedia)
The film's soundtrack was released in 1944 by Decca Records.
Fun Facts:
The first Disney movie to be shown in South America before it was screened in the USA.
The movie is only 42 minutes, making it the shortest Disney movie. Dumbo is (64 min.)
This and The Three Caballeros were created to improve the United States relations with the South American countries during World War 2.
"The film "Saludos Amigos" (1942) was conceived as Disney's effort to support the then-current Good Neighbor policy of President Franklin D. Roosevelt. From 1898 to 1934, the United States military, particularly the United States Marine Corps, was involved in the so-called Banana Wars. The term includes a series of military campaigns, police actions, political interventions, and military occupations of Latin American countries and areas, fought to advance American political and financial interests. In 1933, the new government of Roosevelt promised to end the Wars, start a policy of military non-intervention in Latin America, and advance efforts to improve relations. The American occupation of Nicaragua ended in 1933 and that of Haiti in 1934, in each case with the withdrawal of American forces. The Wars ended and Roosevelt did try to improve relations with the Latin American countries. He also started efforts to promote American culture in Latin America, and Latin American culture in the United States. In 1941, Roosevelt created the Office of the Coordinator of Inter-American Affairs, to further advance his goals. The mission of the OCIAA was cultural diplomacy, promoting hemispheric solidarity, and countering the growing influence of the Axis powers in Latin America. The OCIAA's Motion Picture Division worked with the Hollywood studios to create films which incorporated Latin American stars and content. They were intended to play a double role in the effort, to both educate the American public about Latin America and to increase the appeal of American films in Latin America. Walt Disney was one of several filmmakers recruited by OCIAA's Motion Picture Division." (IMDB)
"Chilean cartoonist René Ríos Boettiger a.k.a. "Pepo" was dissatisfied with Pedro the Airplane. He wanted a character that could be seen in the same league as Donald Duck and José Carioca. As a "response" to the film, in 1949 he created his most famous character: "Condorito", an anthropomorphic condor (this type of bird can actually be seen in the film's segment). He became one of the most popular comic strip characters around the world." (IMDB)
The El Gaucho Goofy segment has been edited for DVD. Originally, Goofy smokes a cigar, but there was a lot of smoking controversy, so Disney deleted it.
Jose Carioca has become a very popular character especially in Brazil. He headlines his own series, and has his own supporting cast. In countries that sell Disney comics, Jose is either with Donald or plays a supporting character. Jose is considered one of Disney's classic characters.
Jose Carioca is the first Brazilian character and the first major Latin American character.
Jose is named after his voice actor.
The inspiration for Jose was a parrot named Sonia. She could sing, dance, and talk in Portuguese. Sonia had a cameo in the film.
Saludos Amigos is the first time Donald Duck appears in the animated movie canon. Before, he was only in the shorts. Donald Duck has been in five of the canon movies: Saludos Amigos, The Three Caballeros, Fun and Fancy Free, Melody Time, and Fantasia 2000.
This is Goofy's second movie (Reluctant Dragon), but his first in the animated movie canon.
The American theatrical released was delayed for months. It was released in Brazil in August 1942 and in the US in February 1943.
"The postcard in the segment "Pedro" is addressed to Jorge Délano. This is not a random name. Jorge "Coke" Délano Frederick (1895-1980), commonly known as just Jorge Délano was a prominent Chilean cartoonist, and filmmaker. He met Walt Disney during his visits to the United States and was instrumental in bringing Disney and his staff to Chile during their South American tour." (IMDB)
Saludos Amigos is credited for popularizing the song "Aquarela do Brasil" which is one of the most famous Brazilian songs.
While, there are only 4 segments. There were going to be more, many of them appear in The Three Caballeros and "Blame it on the Samba" appears in Melody Time.
Accomplishments/Awards:
Saludos Amigos was nominated for three Academy Awards: Best Musical Score, Best Original Song (Saludos Amigos), and Best Sound Recording.
Rotten Tomatoes reports that 80% of the critics gave the film a positive review based on 10 reviews.
The film helped changed the United States views towards South America.
It helped popularize one of the songs, and helped it become the most famous Brazilian songs.
Controversy/Complaints:
"While well received by both American and Latin American at the time of its release, the critical reception of the film in both areas has always been decidedly mixed. Over the decades critics, film historians, and various writers have seen it in different lights and described it in different ways. It has been both been described an as interesting introduction to Latin America and as a boring film version of a travel brochure, it has both been praised for dispelling negative stereotypes and condemned for propagating them, it has both been seen as a genuine reflection of Latin American culture and music and as a work that relies on exoticism and American fascination with it. The intentions behind its creation have also been questioned, with some seeing it as a product of cultural diplomacy and others as a work of propaganda." (IMDB)
Honestly, I haven't seen any actual complaints toward the movie. The major reason why is probably because not a lot of people even know this film exists. Even if more people were familiar with this film, I doubt there would be any controversy.
Setting:
The film is set in the present time, 1940s. The locations are many South American countries: Lake Titicaca, Bolivia, Rio De Janeiro, Brazil, Santiago, Chile, Mendoza, Argentina.
Characters:
Donald Duck: Donald Duck needs no introduction. Probably, one of the most well-known characters in Disney. In this movie, he is a tourist, who gets into a few accidents. Then, in the end, has a drink and dances in the club.
Llama: The llama likes to dance, and travels with Donald for a while.
Boy: The Boy can play the flute, and lets Donald borrow his flute and llama.
Pedro: A small little airplane who delivers the mail. He likes to show off and gets distracted easily, but will not give up and continues to do his job.
Mama Plane: The mother of Pedro who has heart problems. She loves her son.
Papa Plane: The father of Pedro who gets sick. He loves his son.
Aconcagua: The fearsome mountain that gives Pedro some problems on delivering the mail.
Condor: He leads astray Pedro from delivering the mail.
Goofy: Goofy is someone who also doesn't need an introduction. In this movie, he is a cowboy.
Horse: Goofy's horse who also likes to dress up.
Ostrich (although it resembles an ostrich and they say it is only an ostrich; ostriches only live in Africa, so this bird would actually be a rhea.) Goofy catches him.
Jose Carioca: A parrot who is hard to understand. He is very laid-back and likes to smoke cigars, and dance.
Songs:
Saludos Amigos: The title song which plays over the credits in the beginning of the movie. It is a catchy number.
Aquarela do Brasil: It means watercolor of Brazil, which is what it actually does. The artists start painting in watercolor as the song plays. They paint as the song goes on.
Before the Film:
I have seen Saludos Amigos before, but I don't remember anything about the movie. I already own the DVD, but here's the video on YouTube. The only thing is the YouTube clip is on a tv screen, and the video goes past the screen. I don't know if that makes sense. Sorry if it doesn't. I'm not really sure how to explain it.
Plot:
Lake Titicaca: So, we first meet Donald while the narrator goes over some facts about Lake Titicaca. Donald tries to get on a boat, but falls in the water instead. Then he meets a boy who can use his flute to sort of make the llama dance. Donald also tries on the outfit and tries to play the flute, but he isn't very good. The llama dances bad. Donald learns to play better, and they go up the mountain and a suspension bridge. The suspension bridge freaks Donald out, and he nearly falls off. Eventually, he does fall off into some pottery, and continues to fall down. Then he swims away in a pot.
Pedro: Then we meet Papa Plane who is a big plane, Mama Plane who is a medium plane, and a baby plane that is small. His name is Pedro. Pedro goes to school until one day Papa and Mama Plane were sick. So, he would have to deliver the mail. The problem is that Pedro would have to go across the fearsome mountain, Aconcagua, to deliver the mail. Pedro collects the mail, and then starts to show off his amazing flying skills. He sees a condor, gets distracted, and chases after him. Then Pedro meets Aconcagua and it starts raining and thundering. Pedro drops the mail, but he won't give up. He goes to get it. He has to climb the mountain, snow, and go all the way to the top. He's nearly there, when he no longer has any gas, and drops down. His parents searched for him, until they lost all hope. Then Pedro appears out of nowhere with the mail intact. The important mail was only a postcard.
El Gaucho Goofy: The next segment is basically a How to Goofy cartoon. The cartoon basically explains what a gaucho is (similar to a cowboy) and explains how to be one. While, Goofy gets into typical Goofy accidents. Goofy also catches an ostrich, sings, and plays a guitar. It turns out not to be Goofy singing, but a music recorder thing. After, catching his butt on fire, he "flies" back to Texas into the water. He says goodbye.
Aquarela de Brasil: The song plays as the artists paint while the song leads the way. Suddenly, some color appears and the water appears. Then two dancing flamingos come along and singing flowers. Along, with many other similar things, like making bananas into toucans. Then Donald appears in a flower after swallowing a bee. (Don't worry the bee flies away) Then the artists paint a parrot named Jose whose a fan of Donald. They make it to town. Jose smokes a cigar and they both drink which causes Jose to get the hiccups. Then they go clubbing and dance with a girl.
Positive:
I like how it changed Americans views towards South America. I like all the information presented about South America. It is very interesting. I also like the narrator's voice.
The first segment (Lake Titicaca) is beautifully animated. I like how they used the characters (besides Donald and the narrator), to speak their native language instead of English.
The Pedro segment is beautifully animated. The Aconcagua scene looks "scary." The planes are cute.
The Goofy segment is funny as always. It is beautifully animated; the way they make the ostrich walk looks like how an actual ostrich would walk.
The last segment is the most beautiful one of them all. They paint while we watch as it goes on. It is gorgeous. Donald and Jose are great characters. The music is beautiful. I especially like the score, were Jose takes Donald to town. It is just instruments playing, but it is really pretty and up-beat.
Negative:
The first segment, while I do like Donald, I find the segment to be pretty boring. The Pedro segment is also very boring. It's cute, but not very interesting.
Overall Opinion:
Saludos Amigos is a movie that helped shift Americans views toward Latin America. It helped popularize one of the most well-known Brazilian songs. It gave us a great new character, Jose. Along, with introducing some of our favorite characters, Donald and Goofy, to the big screen. It gave important, interesting facts about South America. The animation is beautiful particularly the Aquarela de Brasil scene. The songs are very catchy, and the characters are great. Besides, the last segment, the film is pretty boring and unmemorable. I think it is a good idea to use to introduce people to South America, who might not know much about the countries, because it is very informative. Overall, I do think it is good for children and at least a one-time watch for adults. I rate it a B.
Favorite Character:
My favorite character is Jose. While, most of the time, it is hard to understand what he is saying, which has the same appeal to him as Donald. The difference is Donald is quick to anger, while Jose is more laid-back. I also really like the way he talks.
Favorite Song:
My favorite song is Aquarela de Brasil. First, it starts off slow and beautiful. It's very classy like. Then out of nowhere, boom, it gets all up-beat. It makes you want to dance and is very catchy.
Favorite Scene:
My favorite segment is the Aquarela de Brasil. It is really beautiful. The way they combined the music with painting is great. All the creatures and things they came up with were really creative. The music in that scene is fantastic. Jose and Donald are great. It's the most memorable segment.
What did you think of the movie? Which was your favorite segment?
Next, up is another Disney movie (except this one isn't part of their classic canon) Victory through Air Power. It is a documentary. It was published in 1943. I've seen half of it before, and found it  to be really boring. So, hopefully I'll like it better next time.
(I do not own pictures, videos, etc. My information came from my own knowledge of the film, the Saludos Amigos DVD and bonus DVD, Wikipedia, IMDB, and DisneyWiki.)