Melody Time:
Welcome Back! Sorry, it took so long, but I was out of town. Anyways, Melody Time is a classic animated Disney film. It is the 5th out of the 6th package films, and it is the 10th in the Walt Disney Animated Classics Series. It was produced by Walt Disney and distributed by RKO Radio pictures. It was released on May 27, 1948. Melody Time won the 1948 International Award- Animated Film. Melody Time includes seven segments: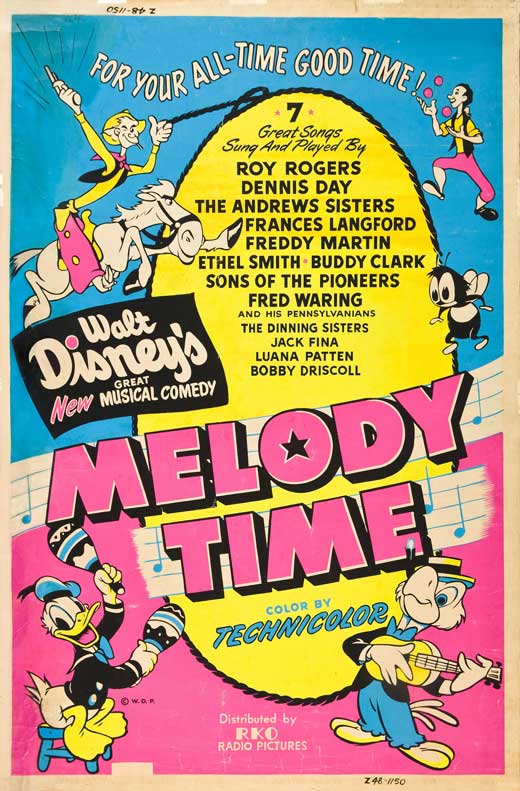 Once Upon a Wintertime
Bumble Boogie
The Legend of Johnny Appleseed
Little Toot
Trees
Blame It on the Samba
Pecos Bill
History:
Melody Time was directed by Jack Kinney (Pinocchio, Dumbo, Saludos Amigos-The Adv. of Ichabod & Mr. Toad, Peter Pan), Clyde Geronimi (The Three Caballeros, Make Mine Music-101 Dalmatians), Hamilton Luske (Snow White-Fantasia, Saludos Amigos, Make Mine Music, Melody Time, Cinderella-Lady and the Tramp, Mary Poppins), and Wilfred Jackson (Snow White-Dumbo, Saludos Amigos, Cinderella-Lady and the Tramp).
Melody Time was written by Winston Hibler (The Adv. of Ichabod & Mr. Toad-Peter Pan, Sleeping Beauty, The Aristocats, The Many Adv. of Winnie the Pooh), Harry Reeves (Saludos Amigos, Melody Time-Cinderella), Ken Anderson (Snow White-Fantasia, Saludos Amigos-Fun & Fancy Free, Cinderella-The Rescuers), Erdman Penner (Pinocchio, Fantasia, Make Mine Music, The Adv. of Ichabod and Mr. Toad-Sleeping Beauty), Homer Brightman (Saludos Amigos-Cinderella), Ted Sears (Snow White, Pinocchio, Saludos Amigos, The Three Caballeros, Melody Time-Peter Pan, Sleeping Beauty), Joe Rinaldi (Dumbo, The Adv. of Ichabod and Mr. Toad-Sleeping Beauty), William Cottrell (Snow White, Pinocchio, Saludos Amigos, The Three Caballeros, Alice in Wonderland, Peter Pan), Jesse Marsh (Make Mine Music, Shorts), Art Scott (Popeye, Scooby-doo, Casper), Bob Moore (Dumbo's Circus), and John Walbridge (Pinocchio-Dumbo, Make Mine Music, Alice in Wonderland).
The budget was 1.5 million and the box office was 1,850,000 dollars.
In 1947, Disney announced he would be releasing a regrouping of various cartoons titled Melody Time and Two Fabulous Characters to be released in August 1948 and 1949.
Melody Time was made to bring in profit, that way Disney could go back to making single-narrative feature forms (Cinderella-1950). Make Mine Music is set to popular and folk music of the 1940s. In Melody Time, Walt Disney let his animators and color magicians have free reign. Melody Time was also the last time The Andrews Sisters played in a film.
Music:
The music is by Eliot Daniel (Make Mine Music, Melody Time, So Dear to my Heart), Paul J. Smith (Snow White-Fantasia, Bambi-The Three Caballeros, Melody Time, Cinderella), and Ken Darby (Make Mine Music, Song of the South, So Dear to My Heart).
Cast:
Roy Rogers as Himself, Narrator, and the Singer from Pecos Bill; King of the Cowboys, The Golden Stallion, Trail of Robin Hood
Trigger as Himself (a famous horse), The Golden Stallion
Dennis Day as Narrator and Singer, Characters in Johnny Appleseed; Babes in Toyland, Frosty's Winter Wonderland, The Stingiest Man in Town
The Andrews Sisters as Singers in Little Toot; Make Mine Music
Fred Waring and the Pennsylvanians as Singers in Trees; Popular Musician
Freddy Martin as Music Composer in Bumble Boogie; Bandleader
Ethel Smith as Organist in Blame it on the Samba; Organist
Frances Langford as Singer in Once Upon a Wintertime; Famous Singer
Buddy Clark as Singer and Narrator; Popular Singer
Bob Nolan as Himself, Singer, and Narrator in Pecos Bill; Hollywood Canteen, Rhythm on the Range, Thundering Frontier
Sons of the Pioneers as Themselves, Singers, and Narrators in Pecos Bill; Popular Singing Group
The Dinning Sisters as Singers in Blame it on the Samba; Singer Group
Bobby Driscoll as Himself in Pecos Bill; Peter Pan, Song of the South, So Dear to my Heart, Treasure Island
Luana Patten as Herself in Pecos Bill; Song of the South, So Dear to my Heart, Fun & Fancy Free, Johnny Tremain, Follow Me Boys
Mel Blanc as Little Toot (sound effects and whistles); Voiced almost all Looney Tunes Characters, etc.
Thurl Ravenscroft as Big Toot (sound effects and whistles) and Singer; Singer in Make Mine Music, Additional Voices in Cinderella, Card Painter in Alice in Wonderland, Chorus Singer in Peter Pan, Singer in Sleeping Beauty, Captain in 101 Dalmatians, Black Bart in The Sword in the Stone, Hog in Mary Poppins, sung How the Grinch stole Christmas, Billy Bass in The Aristocats, Singer in The Many Adv. of Winnie the Pooh, Kirby in The Brave Little Toaster, etc.
Bill Lee as Singer; Card Painter in Alice in Wonderland, Pirates singing voices in Peter Pan, Dog in Lady and the Tramp, Roger's singing voice in 101 Dalmatians, Ram's singing voice in Mary Poppins, Shere Khan's singing voice and singing elephant in The Jungle Book, etc.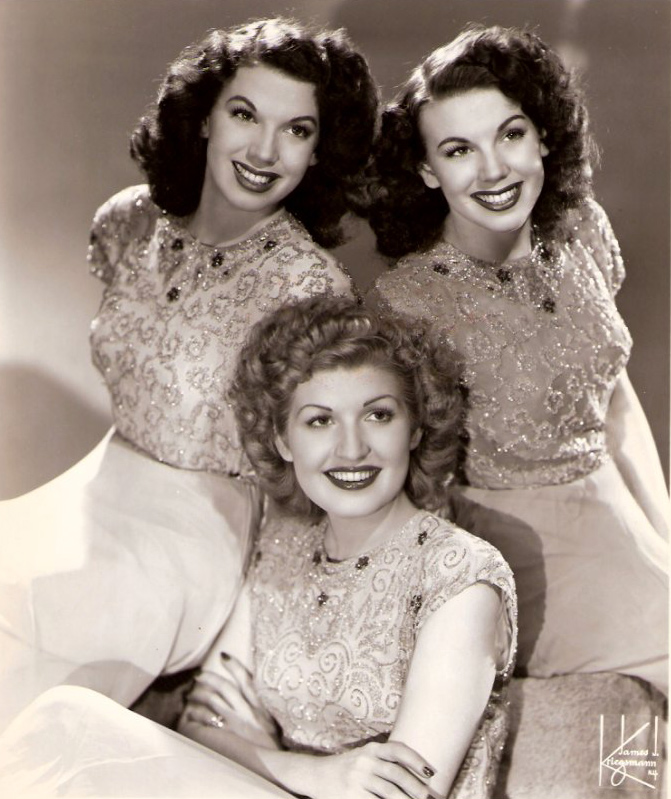 Original Story:
"The segment "The Legend of Johnny Appleseed" is one of the rare Disney animated works based on a historical figure. Johnny Appleseed is the historic nickname of John Chapman (1774-1845), a frontiersman credited with introducing the apple tree to the areas of modern Illinois, Indiana, Ohio, Ontario, Pennsylvania, and West Virginia." (IMDB)
"The music used in the section "Bumble Boogie" is a swing-jazz version of the "Flight of the Bumblebee" (1900) by Nikolai Rimsky-Korsakov (1844-1908)." (IMDB)
"The segment "Little Toot" is an adaptation of a popular children's story of the same name. It was created in 1939 by Hardie Gramatky (1907-1979) and remains his most popular work." (IMDB)
"The segment "Trees" is largely a recitation of the poem "Trees" (1913) by Joyce Kilmer (1886-1918)."
"The character of Pecos Bill is supposed to be a figure of traditional folklore and tall tales. However this status is in dispute and scholars suspect he is actually a figure of fakelore. In the case of Pecos Bill, his first appearance in print was in a 1917 short story by Edward O'Reilly. O'Reilly claimed he based this story on a traditional tall tale and went on to publish several others. Soon other writers started using the character, most notably James Cloyd Bowman who won an award for his Pecos Bill novel. However there is no evidence that Pecos Bill is actually older than the 1910s and he is considered a likely creation of Edward O'Reilly himself."(IMDB)
Fun Facts:
"During the making of this movie, when composer Ken Darby presented the music for the "Johnny Appleseed" segment to Walt Disney, Walt scorned the music, as sounding "like New Deal music," to which an enraged Darby shouted back, "THAT is just a cross-section of one man's opinion!" Darby would not be at the studio much longer after that." (IMDB)
The Legend of Johnny Appleseed is one of the very few Disney movies to feature religious content.
Bumble Boogie was originally meant for Fantasia.
Pecos Bill is one of three prominent Disney characters abandoned in the wilderness and raised by animals. (Mowgli and Tarzan.)
Awards and Accomplishments:
The song Blue Shadows on the Trail was chosen by the Western Writers of America as one of the top 100 Western songs of all time.
"Disney Discourse: Producing the Magic Kingdom notes that an article in Time Magazine around that time "celebrated the global scope of the Disney product", and a 1948 review for The News-Sentinel said the "charm and skill" that one had to expect from Disney is "delightful entertainment" for all children. A 1948 review of the film for the Los Angeles Times said the "acts" Johnny Appleseed and Pecos Bill, which the "new variety show from Walt Disney [gave] special attention to" are "'human' sagas" and as a result "more endearing" than the rest of the segments. The Andrews Sisters: A Biography and Career Record notes that "the public liked the film and it was a box-office success". A 1948 review by the Pittsburgh Post-Gazette said the film was a "visual and auditory delight" and added that if Disney were able to reach his audience's other senses, "there's no doubt he'd be able to please them too". It says a "tuneful and functional soundtrack rounds out the Disney art". It said that Bumble Boogie "reverted back to fantasia-like interpretive technique". It also notes that the abstraction ends after Trees, and the final three shorts are "story-sequences". It says the simple story of Johnny Appleseed is done with "touching perception". It said Little Toot "is destined to become a fable of our time" and adds "the Andrew Sisters tell the story in lilting song". The review ended with the author saying "deserving accolades will go to [Walt Disney] and his whole production staff, as well as to the staff whose voices he has used as well." (Wikipedia)
When the segments were released independently, they were more successful than the original film. Bumble Boogie had huge popularity. The Little Toot segment was so popular that in 1954, it was re-released on its own as a short cartoon. It was featured on Walt Disney's popular weekly television series.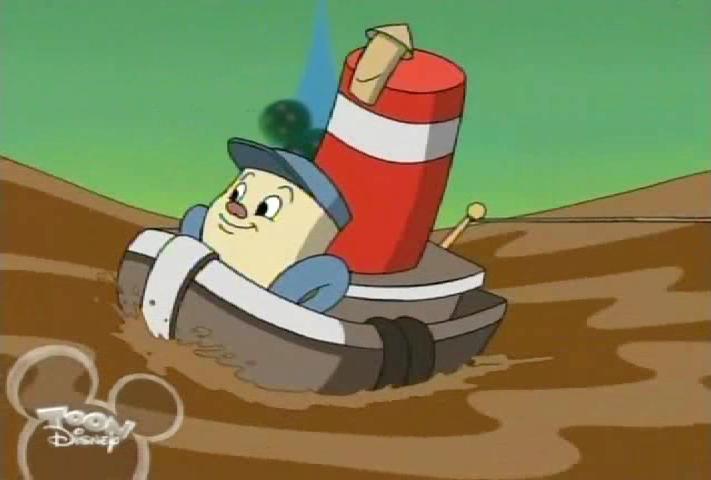 "There are many references to the Pecos Bill segment in the Frontierland part of Magic Kingdom: there is a sign of Bill outside the Pecos Bill Tall Tale Inn and Cafe, as well as various images of him, the other characters, and their accessories around the cafe. A pair of gloves with the inscription "To Billy, All My Love, Slue Foot Sue" is located in a glass display case. In the World of Disney, Jose Carioca from Blame it on the Samba appears in a mural on the ceiling among many other characters. In a glass case, behind the windows of the All-Star Movies, there is a script for Melody Time." (Wikipedia)
Melody Time won the 1948 International Award- Animated Film.
Controversy/Complaints:
At the time of its release, Melody Time received generally unfavorable reviews.
"DVDizzy notes that in regard to the mix of shorts and 1940s music, "the marriage often does not work, and the melodies are not particularly the film's forte", however it adds that this is a modern-day opinion, and that paying audiences at the time the film was released probably "felt better about the music". The site then reviewed each segment in turn, saying: Once Upon a Wintertime is "physical slapstick" that doesn't match the "dramatic singing by Frances Langford", Bumble Boogie is "fun but forgettable", The Legend of Johnny Appleseed is the "most enjoyable" of the segments, Little Toot is "rather generic", Trees features "some nice imagery", Blame it on the Samba "involve[s] Latin dancing and nothing more", and Pecos Bill has "Disney…go[ing] back and us[ing] today's technology to alter [Bill's smoking,] what admittedly is a minor point in one short of a film that's predominantly going to be watched and purchased by animation enthusiasts/historians". It explains the "video quality is consistently satisfying" and that the "audio has the dated feel of other '40s Disney films". (Wikipedia)
There was controversy surrounding Pecos Bill smoking. The segment was heavily edited when the film was released on DVD in 1998. "While the character of Bill is shown "smoking a cigarette in several sequences", the edited version cuts these scenes, "resulting in the removal of almost the entire tornado sequence, and [creating] some odd hand and mouth movements for Bill throughout". In a review at DVDizzy, it is noted that if one has an interest in the shorts, one will "probably be upset to know that Disney has decided to digitally edit out contents of the 50-plus-year-old frames of animation." (Wikipedia)
"Jerry Beck, in his book The Animated Movie Guide, comments on a risqué joke in Pecos Bill that somehow made it past the censors, when Bill kisses Sue and his guns rise from their holsters and begin to fire by themselves, simulating ejaculation. He adds jokingly that "perhaps Roy Rogers was covering the eyes of Bobby Driscoll and Luana Patten during this scene". (Wikipedia)
Setting:
The segment Little Toot takes place in New York around Pearl Harbor. The Statue of Liberty is seen at the end.
The Pecos Bill segment takes place in Texas.
It is also set in South America.
Characters:
Joe: Jenny's boyfriend; He likes ice skating and sleigh riding.
Jenny: Joe's girlfriend; She likes ice skating and sleigh riding.
Johnny Appleseed: Main protagonist; Likes to plant apple trees. He is friendly and religious, and likes to do the good thing.
Little Toot: Main protagonist; Mischievous little tug-boat who likes to play.
Big Toot: Little Toot's father.
Donald Duck: Donald Duck is back again. He for some reason is upset, until Aracuan bird comes along, and brings the joy to dancing.
Jose Carioca: Jose also comes back for his last role in a Disney film. He is also upset until he gets to dancing also.
Aracuan Bir: The Aracuan bird only wants to cheer up his friends and dance.
Pecos Bill: Main protagonist; Handsome, tough, and funny cowboy. He likes to catch rustlers, yodeling, and doing heroic deeds.
Slue-foot Sue: A red-head thrill-seeking daredevil cowgirl who has no fear.
Widowmaker: Pecos's horse who loves Pecos and is jealous off Sue.
Minor Characters: Horses, Squirrels, Birds, Rabbit Couple, Bee, Johnny's Angel, Old Settler, Crowd, Forest Animals, Police Tugboats, Whitey, Rustlers, Coyotes, Vultures
Songs:
Melody Time: The song plays over the introduction credits.
Once Upon a Wintertime: This song is used to narrate the Once Upon a Wintertime segment in song form.
The Lord is good to Me: Johnny sings the song while he collects the apples.
Pioneers: The song the pioneers and Johnny sing as they travel.
There is a Lot of Work to Do: The song Johnny and the Old Settler sing to make apple foods.
Apple Party: The song the crowd dances to.
Little Toot: The song is used to narrate the Little Toot segment.
Trees: A song that plays in the background while it shows the animation to Trees.
Blame It on the Samba: The song the Aracuan bird uses to bring happiness to Donald and Jose.
Blue Shadows on the Trail: The song is used to show the setting of the Pecos Bill segment.
Little Pecos Bill: It shows the beginnings of Pecos Bill.
A Stranger Come: It shows the beginnings of Widowmaker.
Pecos Bill: It explains who Pecos Bill is.
Sweet Sue: It shows the love between Pecos Bill and Slue-foot Sue.
Before the Film:
I've seen the film, but it was such a long time ago that I don't remember much that happened in the movie. I already own the DVD, but if you would like to watch the film. Here is the link, but it is in small format:
Plot:
Once Upon a Wintertime: It starts off with the couple Jenny and Joe. They go ice-skating and have a great time, until Joe tries to show off. Jenny gets mad at him. Joe becomes sad and then mad at Jenny for ignoring him. She becomes upset with Joe for getting mad. So, they ignore each other. The ice breaks and Jenny is about to go over the waterfall and Joe tries to save her, but he fails.  The animals with their quick thinking save Jenny. Jenny thinks Joe saves her, and is no longer mad at him. They live happily ever after.
Bumble Boogie: A bee is attacked and chased by instruments. The bee conquers the instruments in the end.
The Legend of Johnny Appleseed: The Legend of Johnny Appleseed is about the tale of Johnny Appleseed. Johnny goes west to plant apple trees and helps bring folks together. Johnny dies and goes to heaven with the old settler.
Little Toot: Little Toot is about a boat who likes to cause mischief until one day the police catch him. That is until he saves the day, and everyone is happy again.
Trees: It is basically about a tree's life.
Blame It on the Samba: Donald and Jose are back again, but are depressed. The Aracuan bird with his crazy antics manages to cheer them up.
Pecos Bill: Pecos Bill is about the American legend Pecos Bill. Pecos starts off as a little baby abandoned and raised by a coyote mother. Widowmaker (the horse) is nearly dead and is attacked by vultures when Pecos saves him. They become best friends and grow up together. They have many interesting adventures together, like building the Rio Grande. One day Pecos sees a beautiful woman riding a catfish. Her name was Slue-foot Sue. Pecos Bill falls instantly in love with Sue, and courts her, but forgets his friendship with Widowmaker. Widowmaker cries over his lost friendship. Sue and Pecos get married, but Sue wants to ride Widowmaker. Widowmaker becomes angry and tries to buck Sue off, but she stays put. That is until she gets bucked all the way to the moon. Pecos is sad, and he goes back to the coyotes which is why they always howl at the moon.
Positive:
The Once Upon A Wintertime Segment has beautiful music and is beautifully animated. It is really short, so you don't find yourself bored of it. Bumble Boogie is a fun little piece. It's colorful and festive. The animation is brilliant and the music is great. The Johnny Appleseed segment is a cute story. It's an informative piece that explains a little bit of who Johnny Appleseed is. The animation is nice and the music is very catchy. The Little Toot segment has great animation and a great song. The Trees segment is stunning. It is very beautifully animated. The Blame it on the Samba segment also has pretty animation. Pecos Bill has a great story, beautifully animated, great characters, and great songs.
Negative:
The Once Upon A Wintertime segment is pretty pointless. While, it is short, there wasn't any actual purpose to it. Also, I didn't like how the animals didn't get any credit for saving Jenny. Joe took all the credit. So, I'm not sure what the point to it was. The Little Toot segment is almost exactly like the Pedro segment from Saludos Amigos, and while Little Toot isn't bad; Pedro is done way better. The Trees segment is boring and doesn't have a story. Like, Little Toot, it is also very similar to The Old Mill, and The Old Miller does it way better. The song isn't that great either. The Blame it on the Samba segment also brings back the weird and creepy ending to The Three Caballeros. Donald and Jose might be back but their characters come off as bland. While the Andrews Sisters are talented singers, this song doesn't really suit them, which also means it doesn't really fit the segment. It would've been better if they got a popular Latin singer like they did for Saludos Amigos and The Three Caballeros.
Overall Opinion:
Melody Time is one of the worst Disney films. Besides Pecos Bill and Johnny Appleseed, the other segments aren't that good. The other segments work better as stand-alone cartoons, but not in the movie. If, they left those as cartoons, and kept Pecos Bill and Johnny Appleseed, along with adding other classic American legends (Paul Bunyan, Daniel Boone, Davy Crockett, Martha Jane Canary, John Henry, etc.) and made them into one movie, Melody Time could've actually been really good and informative. Some of the music is really good like in Johnny Appleseed and some of the animation like in Trees is really good. Then, there are others aren't that good. A lot of the segments felt like repeats of other Disney movies or cartoons, but the original ones were done a lot better. Unless you're a Disney/animation enthusiast, I don't think you'll enjoy the film and I don't really recommend it. Overall, I rate it as a D.
Favorite Character:
My favorite character is the jealous Widowmaker. Widowmaker is adorable and strong. He wasn't really in the wrong either. His best friend from his entire life, abandons him the second he sees a pretty girl. And, this girl not only takes Pecos away, but he also tries to take Widowmaker's pride away. He wasn't having that though. He showed her who was boss.
Favorite Song:
My favorite song is The Lord is good to Me. I'm not religious, but that song is extremely catchy. The animation is nice too.
Favorite Scene:
My favorite segment was the Pecos Bill segment. It has a great cast of characters, great songs, great animation, and a great story. The live-action combined with the animation was very well-done.
What did you think of the movie? What was your favorite scene?
Next, up would've been Water for Fire Fighting, but I can't find it. There isn't a Wikipedia link for it either. I only know it was released in 1948 in the United Kingdom. It was a stop motion and instructional film. It was directed by Alan Crick and John Halas.
So, the next movie we'll be doing is the Disney classic, The Adventures of Ichabod and Mr. Toad. The Adventures of Ichabod is the last package film. It was released in 1949. It contains the two shorts: The Wind in the Willows and The Legend of Sleepy Hollow. It's probably the most well-known of the package films. I don't really remember the first half, but I do remember the second half of the movie.
(I do not own pictures, videos, etc. My information came from my own knowledge of the film, Melody Time DVD, Wikipedia, IMDB, and DisneyWiki.)