Welcome Back! Sorry, it has been awhile, but work and school take up a lot of time. Today, we will be watching the Disney classic, Alice in Wonderland. "While the film was critically panned on its initial release, the movie proved to be ahead of its time and has since been regarded as one of Disney's greatest animated classics, notably one of the biggest cult classics in the animation medium, as well as one of the best film adaptations of Alice." (Wikipedia) Alice in Wonderland was nominated for an Academy Award for Best Music Scoring in 1952. It was also nominated for a Golden Lion in 1951. Alice in Wonderland is Disney's 13th animated film and the 18th film overall.
History:
Alice in Wonderland was produced by Walt Disney and distributed by RKO Radio Pictures. It was released July 26, 1951 in London and July 28, 1951 in the US. It was directed by Clyde Geronimi (The Three Caballeros, Make Mine Music, Melody Time-101 Dalmatians, Mary Poppins), Wilfred Jackson (Snow White-Dumbo, Saludos Amigos, Melody Time, Cinderella-Lady and the Tramp), and Hamilton Luske (Snow White-Fantasia, Saludos Amigos, Make Mine Music-Melody Time, Cinderella-Lady and the Tramp, 101 Dalmatians, Mary Poppins).
Alice in Wonderland was written by Milt Banta (Peter Pan, Sleeping Beauty), Del Connell (The Three Caballeros, Shorts), William Cottrell (Snow White, Pinocchio, Saludos Amigos, The Three Caballeros, Melody Time, Peter Pan), Joe Grant (Snow White-Dumbo, Saludos Amigos-Make Mine Music, Lady and the Tramp, Beauty and the Beast, The Lion King-Fantasia 2000,  Monsters, Inc., Treasure Planet, Home on the Range, Chicken Little, Up, Lorenzo), Winston Hibler (Melody Time-Peter Pan, Sleeping Beauty, The Aristocats, The Many Adv. of Winnie the Pooh), Dick Huemer (Fantasia, Dumbo, Saludos Amigos-Make Mine Music, Lady and the Tramp), Dick Kelsey (Pinocchio-Bambi, Make Mine Music, Melody Time), Tom Oreb (Pinocchio, Make Mine Music, Fun & Fancy Free, Sleeping Beauty, 101 Dalmatians), Bill Peet (Pinocchio-Dumbo, The Three Caballeros, Fun & Fancy Free, Cinderella-Peter Pan, Sleeping Beauty-Sword in the Stone), Erdman Penner (Pinocchio-Fantasia, Make Mine Music, Melody Time-Sleeping Beauty), Joe Rinaldi (Dumbo, Fun & Fancy Free-Sleeping Beauty), Ted Sears (Snow White, Pinocchio, Saludos Amigos, The Three Caballeros, Fun & Fancy Free-Peter Pan, Sleeping Beauty), and John Walbridge (Pinocchio-Dumbo, Make Mine Music, Melody Time).
Walt Disney unsuccessfully attempted to adapt Alice in an animated movie in the 1930s. He finally revived the idea in the 1940s. Originally, it was intended to be a live action/animated film, but instead went with full animation.
The budget was 3 million.
The Making Of:
Walt Disney's association with Alice in Wonderland goes all the way back to his childhood. He had read the books as a school boy. In 1923, when Walt Disney was trying to make a name of himself, he worked at the Laugh-O-Gram Studio making short cartoon series, Newman Laugh-O-Grams. The last of these were Alice's Wonderland which was inspired loosely by the books. The studio went bankrupt in 1923 and the film was never released to the general public. Disney left for Hollywood and showed the pilot to investors. Margaret J. Winkler distributed the Alice comedies from 1924 to 1927. In 1932, Disney played with the idea of an animated/live-action film of Alice. Disney scrapped this for Snow White, but didn't abandon the idea. He made a Mickey Mouse short titled "Thru the Mirror" in 1936. In 1938, Disney revived the idea of Alice and registered the title with the Motion Picture Association of America. He hired storyboard artist Al Perkins and art director David S. Hall to develop the concept art. A storyreel was complete in 1939, but Disney was not pleased. He felt that Hall's drawings resembled Tenneiel's drawings too closely which would be difficult to animate and the script was too dark. Walt realized the amount of work and the money Alice in Wonderland would need, so he shelved it, in favor of Pinocchio, Fantasia, and Bambi.
In 1945, Disney once again revived the idea and signed author Aldous Huxley to re-write the script. However, Walt felt that Huxley's version was too much of a literal adaption. Mary Blair submitted concept art, which Walt liked, and the script was re-written to focus on comedy, music, and the whimsical side of the book.
"One omitted scene from the 1939 treatment of the film occurred outside the Duchess' manor, where The Fish Footman is giving a message to the The Frog Footman to take to the Duchess saying that she is invited to play croquet with The Queen of Hearts. Alice overhears this and sneaks into the kitchen of the manor, where she finds the Duchess' Cook maniacally cooking and the Duchess nursing her baby. The cook is spraying pepper all over the room causing the Duchess and Alice to sneeze and the Baby to cry. After a quick conversation between Alice and the Duchess, the quick-tempered Cook starts throwing pots and pans at the noisy baby. Alice rescues the baby, but as she leaves the house the baby turns into a pig and runs away. The scene was scrapped for pacing reasons." (Wikipedia)
Another deleted scene occurred in Tulgey Wood, where Alice encounters the jabberwock hiding before revealing himself as a funny-looking dragon-like beast with bells and whistles on his song. The song "Beware the Jabberwock" was written. The scene was scrapped in favor of The Walrus and the Carpenter scene. "Out of a desire to keep the Jabberwocky poem in the film, it was made to replace an original song for the Cheshire Cat, "I'm Odd"." (Wikipedia)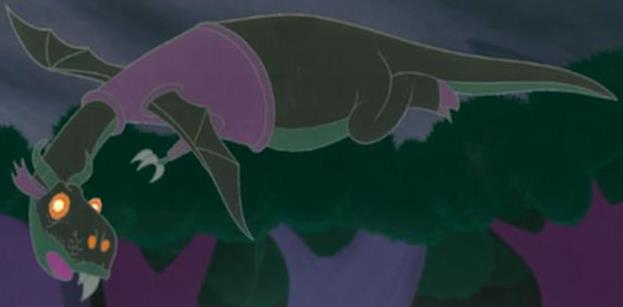 Another deleted scene in Tulgey Wood shows Alice speaking with The White Knight, who was meant to be a caricature of Walt Disney. Walt liked the scene, but felt it was more important that Alice learn the lesson herself. Other characters, The Mock Turtle and the Gryphon were discarded.
Animation:
Directing Animators
Marc Davis- Alice
Milt Kahl- The Dodo, Alice, Flamingo
Eric Larson- Alice, Caterpillar, The Queen of Hearts
Frank Thomas- Doorknob, Queen of Hearts, Wonderland Creatures
Ollie Johnston- Alice, King of Hearts
Ward Kimball- Tweedle Dee, Tweedle Dum, Walrus, Carpenter, Oysters, Cheshire Cat, Mad Hatter, March Hare, Dormouse
John Lounsbery- Flowers, Caterpillar, Cheshire Cat, Mad Hatter, Wonderland Creatures
Wolfgang Reitherman- White Rabbit, The Carpenter, Dodo, Mad Hatter, March Hare
Les Clark- Alice, Wonderland Creatures
Norm Ferguson- The Walrus and the Carpenter
Music:
The music is by Oliver Wallace (Dumbo, Make Mine Music, Fun & Fancy Free, Adv. of Ichabod & Mr. Toad-Lady and the Tramp).
In an effort to retain Carroll's poems and verses, Disney used top songwriters to compose songs built around them for use in the film.
"A record number of potential songs were written for the film, based on Carroll's verses—over 30—and many of them found a way into the film, if only for a few brief moments. Alice in Wonderland would boast the greatest number of songs included in any Disney film, but because some of them last for mere seconds (like "How Do You Do and Shake Hands", "We'll Smoke the Monster Out", "'Twas Brillig", "The Caucus Race", and others), this fact is frequently overlooked. The original song that Alice was to sing in the beginning was titled "Beyond the Laughing Sky". The song, like so many other dropped songs, was not used by the producers. However, the composition was kept and the lyrics were changed. It later became the title song for Peter Pan (which was in production at the same time), "The Second Star to the Right"." (Wikipedia)
The title song has become a jazz standard, adopted by Dave Brubeck in 1952 and 1957. Izumi Yukimura sang her own theme song for the Japanese release.
Cast:
Kathryn Beaumont as Alice; Peter Pan-Wendy, The Secret Garden
Verna Felton as Queen of Hearts; Dumbo-The Elephant Matriarch/Mrs. Jumbo, Cinderella- Fairy Godmother, Lady and the Tramp- Aunt Sarah, Sleeping Beauty- Flora, The Jungle Book- Matriarch
Bill Thompson as White Rabbit/Dodo; Peter Pan- Mr. Smee/Pirates, Lady and the Tramp- Jock/Bull/Policeman, Sleeping Beauty- King Hubert, The Aristocats- Uncle Waldo, Voices Droopy
Sterling Holloway as Cheshire Cat; Dumbo- Mr. Stork, Bambi- Adult Flower, The Three Caballeros- Prof. Holloway, Make Mine Music, Fun & Fancy Free- Narrator, Jungle Book- Kaa, The Aristocats- Roquefort, Winnie the Pooh,
Ed Wynn as Mad Hatter; Miracle on 34th Street, Mary Poppins, The Patsy
Jerry Colonna as March Hare; Make Mine Music- Narrator, The Monkees
Jimmy MacDonald as The Dormouse; Voices Mickey,Chip, & Humphrey, Fantasia- Percussionist, Fun & Fancy Free- Mickey, Cinderella-Jaq, Gus, Bruno, The Sword in the Stone- Wolf, Many Adv. of Winnie the Pooh- Bees, The Rescuers- Evinrude
Richard Haydn as Caterpillar; The Sound of Music, Young Frankenstein
Pat O'Malley as Tweedle Dee/Tweedle Dum/Walrus/Carpenter/Mother Oyster; Adv. of Ichabod & Mr. Toad- Cyril, 101 Dalmatians- Colonel/Jasper, Mary Poppins, Jungle Book- Col. Hathi/Buzzie, Robin Hood- Otto
Joseph Kearns as Doorknob; Dennis the Menace, Anatomy of a Murder
Dink Trout as King of Hearts; So Dear to My Heart, Miss Polly
Larry Grey as Bill the Lizard/Card Painter; Mr. Celebrity
The Mellomen (Thurl Ravenscroft, Bill Lee, Max Smith, and Bob Hamlin) as Card Painters
Thurl: Make Mine Music- Singer, Cinderella- Add. Voices, Peter Pan- Chorus Singer, Sleeping Beauty- Singer, 101 Dalmatians- Captain, The Sword in the Stone – Black Bart, Mary Poppins, Sings How the Grinch Stole Christmas, The Aristocats- Billy Bass, Winnie the Pooh- Singer, The Brave Little Toaster- Kirby, Home Alone
Bill: 101 Dalmatians- Roger Singing Voice, Mary Poppins, Charlotte's Web
Max: 101 Dalmatians Voice, Jingle Belles, Puddin' Head
Bob: Pigs is Pigs, Waikiki Melody, The Glenn Miller Story
Don Barclay as Other Cards; Cinderella- Doorman, 101 Dalmatians- Voice, Mary Poppins, Bedknobs and Broomsticks
Heather Angel as Alice's Sister; Peter Pan- Mrs. Darling, The Informer
Mel Blanc as Dinah/Wonderland Creatures; Looney Tunes Voices
Queenie Leonard as A Bird in a Tree/Snooty Flower; 101 Dalmatians- Princess, Mary Poppins, The Narrow Margin, Hatari!
Doris Lloyd as The Rose; Mary Poppins, The Sound of Music, Rosie!
Lucille Bliss as The Flowers; Cinderella- Anastasia, Peter Pan- Mermaid, 101 Dalmatians- TV Commercial Singer, The Secret of NIMH, Robots
Tommy Luske as Young Pansy; Peter Pan- Michael
Marni Nixon as Singing Flowers; Cinderella-Soloist, Mary Poppins, Mulan-Grandmother Fa, The Sound of Music, Taking My Turn
Norma Zimmer as White Rose; 3:10 to Yuma, Singin' in the Rain, Serenade
Pinto Colvig as Flamingos; Voices Goofy & Pluto, Sleeping Beauty- Maleficent's Goon, Aracuan Bird, Snow White- Sleepy, Grumpy
Original Story:
Alice in Wonderland is based on Alice's Adventures in Wonderland and Through the Looking-Glass by Lewis Carroll. Lewis Carroll's real name is Charles Lutwidge Dodgson.  Alice's Adventures was published in 1865 in the United Kingdom. Through the Looking Glass was published in 1871 in the United Kingdom.
I have never read the book, but I have seen a few adaptions and none besides Disney's are any good. It's been stated by numerous people that the Alice in Wonderland book is nearly impossible to make a movie with. Disney's version does have some differences:
Many Characters are not in the film (Most Notable Jabberwocky)
There is no Doorknob, Tulgey Wood scene/characters, etc.
The Walrus and the Carpenter story is a little different.
Mushroom scene is different.
The Mad Hatter's name was just the Hatter.
In the movie, the Queen of Hearts is more tyrant like.
The Queen is going to execute the Cheshire Cat, but can't.
The Queen of Heart's trial is about the Knave of Hearts.
No chase scene.
Many other differences.
Fun Facts:
Alice in Wonderland is one of the few animated Disney movies to not have a sequel. Only others: (Snow White, Pinocchio, Dumbo, package films, Sleeping Beauty, Sword in the Stone, Aristocats, Robin Hood, Black Cauldron, Great Mouse Detective, Oliver & Company, Dinosaur, Treasure Planet, Home on the Range-Zootopia). It did get a 2010 live action release titled Alice in Wonderland and the live action release got a sequel in 2016 titled Alice Through the Looking Glass.
Deleted Songs: Beyond the Laughing Sky, Dream Caravan, I'm Odd, Beware the Jabberwock, So They Say, If You'll Believe in Me, Beautiful Soup, Everything Has a Useness, Curiosity, Humpty Dumpty, Speak Roughly to Your Little Boy, and Will You Join the Dance.
Bill the Lizard appears in The Great Mouse Detective as one of Ratigan's henchmen.
Bill the Lizard, Tweedle Dum, Cheshire Cat, and the Doorknob appear in Who Framed Roger Rabbit.
In the opening of Aladdin, the peddler tries to sell a hookah like the one the caterpillar used.
In Aladdin and the King of Thieves, the Genie turns into the White Rabbit.
In the Walrus and the Carpenter sequence, the R in March on Mother Oyster's calendar flashes. This alludes to only eating oysters in a month with the R in its name. The reason is because the months without an R are summer months in England, when oysters would not keep due to heat.
Ed Wynn ad libbed the whole scene when the March Hare tries to fix the White Rabbit's watch.
An early idea was that Dinah (Alice's cat) would be transformed into the Cheshire Cat. Alice, the cat, the Mad Hatter, and the March Hare were to go on a journey together before climaxing with Alice's arrest by the Queen. In the end, the Cheshire Cat redeems him/herself and is turned back into a real cat escaping with Alice for a happy ending.
The Mad Hatter was drawn to resemble his voice actor, Ed Wynn.
In the Walrus and the Carpenter sequence, the dates on the calendar are the same as they would be in March 2010 when Disney released the 2010 Alice in Wonderland.
This movie has the most characters and songs in any Disney animated film.
The movie took five years to complete, but was in development for over ten years before actual production.
"It would be a slow ballad entitled "Beyond the Laughing Sky", and it was a song about Alice dreaming of a new world, a world better than her own, very much in the spirit of Dorothy Gale in The Wizard of Oz (1939). However, Kathryn had difficulty singing." (IMDB)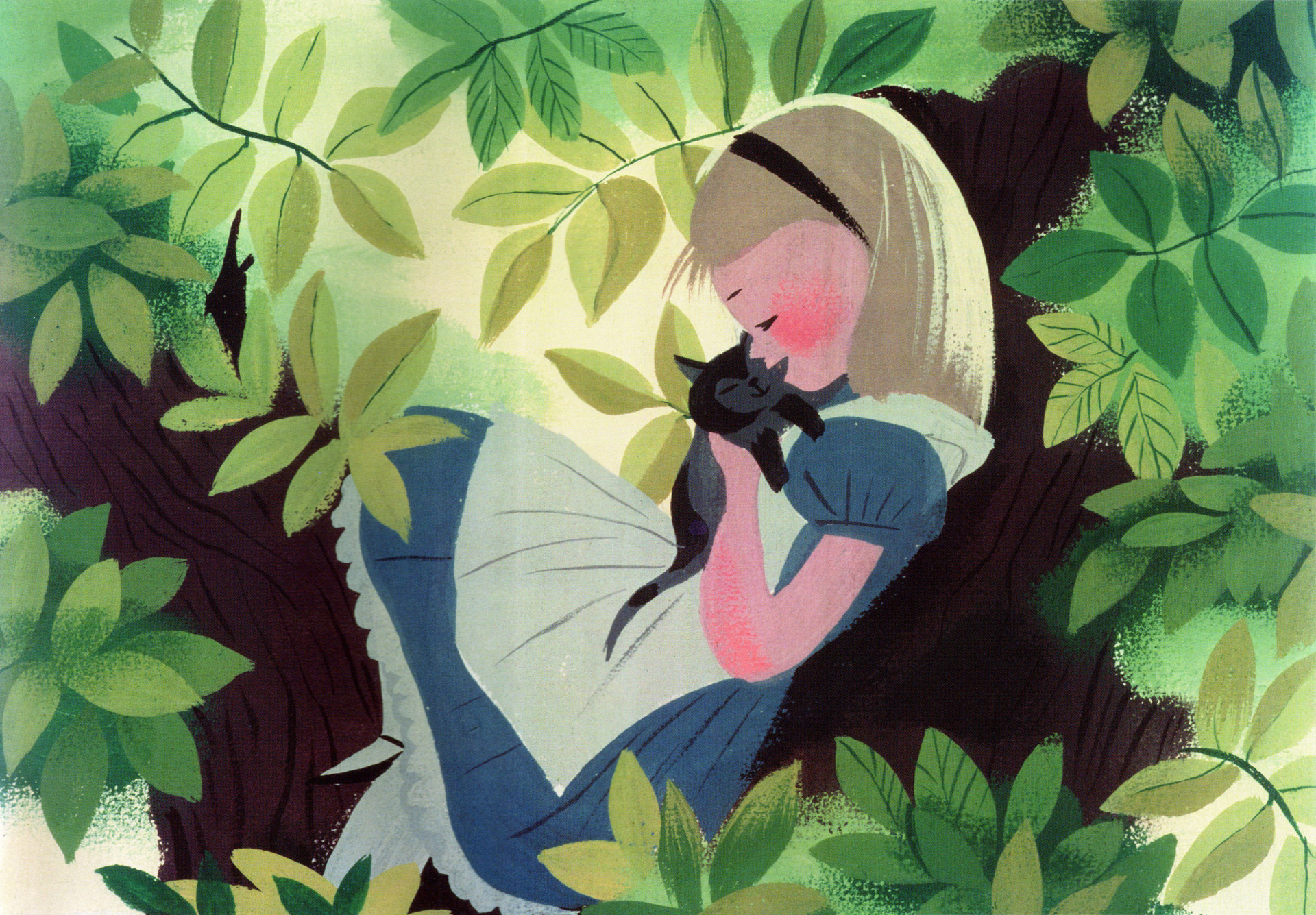 One of the jurors is Jose Carioca.
Kathryn Beaumont also voices Wendy from Peter Pan.
"While not a Princess in the Disney film, Alice has been included in art and music videos of the Disney Princess franchise. She also appears as a Princess of Heart in the Disney-related video game franchise Kingdom Hearts (2002)." (IMDB)
Walt Disney said that the Queen of Hearts was inspired by rival gossip-columnist Louella Parsons, who was ill-tempered and wore her dark hair in a bun.
Ginger Rogers was originally considered for the role of Alice. Also, Lisa Davis and Luana Patten were considered.
Walt Disney originally planned for a song called, "Beware the Jabberwock." It was a music rendition of the Jabberwocky verse.
"The Walrus' seduction of the oysters in the film involves leading them ashore with a flute. This is not based on the original depiction of the character. It is likely derived from the "Pied Piper of Hamelin", a tale about a musician who lures children away with his magic pipe." (IMDB)
Art and animation historians have credited Mary Blair into introducing modernist art to Disney films.
"The script of the film initially included a scene set in the Duchess' household and would feature all the associated characters. The scene was scrapped for pacing reasons." (IMDB)
There was originally going to be a Jabberwock character. It was to be a comical-looking dragon-like beast with bells and whistles on his head.
The White Knight character was intended to have his own scene.
"The film underperformed at the box office and was considered among Disney's flops. Various reasons have been cited, with Walt Disney himself blaming the failure on the character of Alice herself who was not sympathetic enough. The film later became a cult classic, a box office hit in theatrical re-releases, and was critically re-evaluated. It is often ranked among the best animated films." (IMDB)
The song writers created over 30 songs for the films, ranging from a few minutes to few seconds.
Kathryn Beaumont was also the live-action model for Alice.
"The Cheshire Cat and derived characters appear relatively often in Japanese manga and anime. For example the Pokémon characters Gengar, a type of ghost Pokémon, have a grin reminiscent of the Chesire Cat, and similar mischief making abilities." (IMDB)
The blue bird in the beginning of the movie is actually from Bambi.
The Cheshire Cat is based on a real breed of cat, the British Shorthair.
Accomplishments/Awards:
Nearly 2 decades after its release, the animated film Yellow Submarine (1968) was a huge success. "Disney's version of Alice in Wonderland suddenly found itself in vogue with the times. In fact, because of Mary Blair's art direction and the long-standing association of Carroll's Alice in Wonderland with the drug culture, the feature was re-discovered as something of a "head film" (along with Fantasia and The Three Caballeros) among the college-aged and was shown in various college towns across the country. Disney resisted this association, and even withdrew prints of the film from universities, but then, in 1974, Disney gave Alice in Wonderland its first theatrical re-release ever, and the company even promoted it as a film in tune with the "psychedelic" times (mostly from the hit song "White Rabbit" performed by Jefferson Airplane). This re-release was so successful it warranted a subsequent re-release in 1981. Its first UK re-release was on July 26, 1979. By the 1980s, the initial consensus of the film proved to be outdated. The film gained critical acclaim and became one of the most popular Disney movies of all time. Today, not only is the film considered the best movie adaptation of Lewis Carroll's novel, but also one of Disney's greatest animated films." (Wikipedia)
Rotten Tomatoes overall rating is 79% with an average rating of 6.4/10. The consensus states "A good introduction to Lewis Carroll's classic, Alice in Wonderland boasts some of the Disney's canon most surreal and twisted images."
Alice in Wonderland was nominated for an Academy Award for Best Scoring of a Musical Picture. It was also nominated for a Golden Lion at the Venice Film Festival in 1951. It was nominated for AMI's Greatest Movie Musicals and AFI's (10) Top 10 Animated Films.
Controversy/Complaints:
At the time, the creative decisions were met with criticism from Carroll fans and British film and literary critics who accused Disney of "Americanizing English literature." Disney was not surprised by the critical reception. His intended audience was for family, and not literary critics. After, all the work and years put into Alice in Wonderland, it met lukewarm response at the box office and was a sharp disappointment, earning an estimated 2.4 million at the box office.
This was not a disaster, but the film was never re-released theatrically in Disney's lifetime. It instead aired occasionally on network television. It aired as the second episode of Walt Disney's Disneyland TV series on ABC in 1954. Animator Ward Kimball felt the film failed, because "it suffered from too many cooks- directors.  Here was a case of five directors each trying to top the other guy and make his sequence the biggest and craziest in the show. This had a self-canceling effect on the final product." (Wikipedia) Walt Disney felt that it failed, because there was no warmth in Alice's character.
The only complaint I can find towards Alice in Wonderland is that it does not follow the original book, but that isn't really a good complaint. What Disney movie (before Alice in Wonderland or after Alice in Wonderland) actually follows its original source. Disney movies have never been known for following the original, and that is what makes them so great. That is what they are good at. So, I never thought this was an actual valid reason for disliking this (or any Disney movie) for that reason.
Setting:
The main setting is Wonderland. It is Alice's own world. Before, Alice goes to Wonderland, she is seen with her sister and Dinah sitting in a tree. Then she goes to a flowery field and a river. The Disney Wiki page states that Alice in Wonderland is set in England, but does not give any other information besides that. The original author was English. The book was written in England in the 1860s. Also, Alice in Wonderland most likely takes places in the Victorian era, because she mentions Queen Victoria. (a.k.a Queen of England, 1800s)
"In the book Disney Trivia from the Vault – Secrets Revealed and Questions Answered by Dave Smith, on page 9, it is written that the '10/6′ on the Mad Hatter's top hat is not a fraction, but the price of the hat, ten shillings and six pence, in the former currency of Britain. There were twelve pence in a shilling and twenty shillings in a pound. In 1971, this complicated money system was changed to a decimal-based one, doing away with the shilling." (DisneyWiki)
Other, than that there is no evidence at all to figure out where or when Alice in Wonderland is set. My guess would be the 1860's in England (UK).
Characters:
Alice- She is the main character of the story. She's about 7 to 10 years old. She is a blond with a blue dress. Alice is curious, smart, and imaginative. She is also proper and gets bored easily. She loves to daydream.
Mad Hatter- A resident of Wonderland; he is a small older man who is well mad. He wears a giant green hat, green outfit, and a yellowish-green jacket. He likes to sing and loves tea. He loves having unbirthdays. His best friend is the March Hare. He also likes riddles. He is very charming and gentleman like.
March Hare- A resident of Wonderland; he is a hare with yellow hair and brown clothes. He is best friends with the Mad Hatter. He is also insane and loves to sing. He loves tea and having unbirthdays. The March Hare is loud, rude, and wild. Besides, the Cheshire Cat, he is the only one not scared of the Queen of Hearts.
White Rabbit- A resident of Wonderland and the reason Alice gets stuck in Wonderland. He is a white rabbit with a red coat, purple pants, glasses, an umbrella, and a giant watch. He is always running late for an important date. He seems very pompous. He is nervous, eccentric, and always on the go.
Cheshire Cat: A resident of Wonderland; he is a purple cat who can turn invisible and has a permanent smile on his face. He is mysterious and insane like the others, but shows much pride in being insane. All of the Wonderland characters appear to be afraid of him. He is a neutral character, not really evil, but not good either.
Caterpillar: A resident of Wonderland; he is a blue caterpillar who eventually transforms into a butterfly. He smokes a hookah which letters, colors, and words come out of. He has a passion for grammar and recitation. He is very proper. He is more calm and collected than the other residents, and actually gave Alice useful advice. He has a very short temper and a bad memory.
Queen of Hearts: A resident of Wonderland and the villain of the movie. She is short, fat, has black hair, and wears a red, black, and white dress with a crown. She is a tyrannical ruler of Wonderland and is married to the King of Hearts who is scared of her. She is psychotic, ruthless, and egoistical. She is incredibly impatient, irrationally insensitive, and prone to temper tantrums. She does not care about anyone, and constantly screams off with their heads.
Minor Characters: Alice's Sister, Dinah, The Doorknob, Dodo, Dormouse, Tweedle Dee, Tweedle Dum, The Walrus and the Carpenter, The Curious Oysters, Bill the Lizard, Rose and the Flowers, Hammer and Pencil Birds, Mother Bird, Mome Raths, Tulgey Woods residents, Card Soldiers, King of Hearts, Flamingos, and Hedge Hogs
Songs:
Alice in Wonderland: The opening song.
In a World of My Own: One of Alice's solos. She sings this as she imagines a world of nonsense and explains it to her cat, Dinah.
I'm Late: The White Rabbit sings this every time he appears in the movie to announce that he is late and has an important date that he must attend.
The Sailor's Hornpipe: The Dodo sings the song on his way to land as Alice is stuck in the bottle.
The Caucus Race: The Dodo and the animals sing this as they run around in a circle.
How Do You Do and Shake Hands?: Tweedle Dee and Tweedle Dum sing this as they introduce themselves.
The Walrus and the Carpenter: Tweedle Dee and Tweedle Dum sing this as they tell the story about the Walrus and the Carpenter.
Old Father William: A nonsense song that Tweedle Dee and Dum sing as Alice leaves.
Smoke the Blighter Out: The Dodo sings this as they plan to smoke the "monster" out.
All in the Golden Afternoon: The song the flowers sing to introduce themselves to Alice.
A-E-I-O-U: The song Alice hears the Caterpillar singing.
Twas Brillig: The song the Cheshire Cat introduces himself to Alice.
The Unbirthday Song: The song the Mad Hatter and March Hare sing as they wish a merry unbirthday to you.
Very Good Advice: Alice's second solo. She sings this as she is upset from being lost and wanting to go home.
Painting the Roses Red: The song the soldiers sing as they paint the roses.
Before the Movie:
Well, it has been a little while since I last saw Alice in Wonderland (like 4 years). This was never one of my favorite movies and I didn't really like it growing up. I didn't hate it, but I didn't like it either. I like "clear" movies while Alice is more of a "nonsense" movie. Well, maybe my opinion of it has changed. Let's find out. I already own the DVD. I can't find it on YouTube, but you can buy it here for 4.51.
http://www.ebay.com/itm/Alice-in-Wonderland-Masterpiece-Edition-DVD-Kathryn-Beaumont-Ed-Wynn-Richard-/381536404657?hash=item58d55784b1:g:1jIAAOSw3xJVcd0Y
Plot:
Basically, Alice in Wonderland is about a little girl named Alice with an active imagination. We start the movie off with her sister reading to her, and Alice not paying any attention. She wishes the book had pictures, and leaves without her sister noticing. Alice then goes off on her own daydreaming and singing. Until, she finds a talking white rabbit exclaiming that "he is late for a very important date." Alice, curious as always, wants to know where the white rabbit is going, but he doesn't stop to talk to her. So, down the rabbit hole she goes.
She ends up in a room with a talking doorknob. She drinks a bottle that makes her smaller and she fits into the door, going to Wonder Land. She meets many interesting characters there who aren't really that helpful to her. She feels lost and just wants to go home. She eventually makes it to the Queen's castle. The Queen is an evil monarch who wants to cut off Alice's head, but Alice becomes too big. Then she becomes small again and all the characters chase her. Alice runs away and ends up waking up. It was all just a dream. Alice wakes up and leaves with her sister for some tea. The End
Positive:
The characters are great. They are all so memorable. I really like Alice. She is like any other child being very curious about things. But, one of the things I like about Alice is that she isn't curious about the things that most people would be curious about. For example, when she sees a talking rabbit, she isn't curious as to how a rabbit can talk, but she is curious about where it is going.
The writing is very clever. The part where the Cheshire cat is like "oh you can't help that, most everyone's mad here. You may have noticed that I'm not all there myself." That part I think is crazy clever and I never picked up on it when I was little. There are other similar examples all throughout the movie.
The animation is beautiful. You can literally feel Mary Blair's influence throughout the film. It is whimsical and interesting looking. The characters, and especially the scene when the cards have a "domino effect" are amazing.
Most of the songs aren't exactly songs. They are as much songs as the package films are real movies. While, they might not be actual songs, they are still great. I think it works better for the movie rather than a musical. It helps move the story along which is what the music is supposed to do. There are only two actual songs of Alice singing. While, Kathryn isn't the best singer, it works for Alice, because she is supposed to be a little girl. And most little girls can't hit the soprano.
The ending was one of the best parts of the movie. It was climatic and you're on the edge of your seat the entire time hoping Alice isn't caught (even if you've seen it a million times.)
Negative:
The one thing that always bothered me was why Dinah never went with Alice. She was such an adorable cat, and I would have loved to see more of her. She could've been like Toto from The Wizard of Oz.
Besides that, I can't really find anything wrong with this film. Even parts that I originally didn't see the point of. I found a point to them. So, for example, the Tweedle Dee and Tweedle Dum scene, I originally didn't see any reason for that scene. But, the reason I think the scene was there is to show what happens to being curious or "curiosity killed the cat" type of message.
There are times where I feel kind of bored, but I can't figure out anyways that Walt Disney could've changed it to make it better. It's possible that it is because of the source material. I've never read it, but it doesn't sound like something I would be interested in. So, that could be why I'm not really interested in Alice in Wonderland as much as other Disney movies.
Overall Opinion:
Alice in Wonderland is an interesting film. The best way to describe Alice in Wonderland is to say it is weird. Bright colors, a smoking caterpillar, a talking rabbit, a cat that can turn itself invisible, a duo that loves to have unbirthdays, an evil monarch who loves to cut off heads, and a little girl who is very curious. What do all these characters have in common? Well, they're all a little mad, of course, besides Alice. But, you could argue that she is mad as well since she is the one that invented it. Alice in Wonderland isn't really a typical movie. There isn't any plot or actual goal the character is trying to reach. She is just there and things happen to her. But, I think it works for the movie. It is supposed to be a movie about nonsense after all. Anyways, with memorable characters, great mouse, beautiful animation, and clever writing, Alice in Wonderland is an amazing movie. The thing that I dislike about it is that I can feel pretty bored at times. Perhaps, that is just me, since everyone seems to love this movie. With all that said, Alice in Wonderland is a great movie and I would recommend it to both adults and children. Overall, I rate it a B+.
Favorite Character:
My favorite character is Alice. I find her character very interesting. While, she doesn't exactly have an arc, as in she isn't looking for romance, adventure, riches, or anything. She is just a little girl who imagines a world that is complete nonsense and I think that is what makes her well her. While, nonsense might have been what she originally wanted; but when she gets it, she quickly realizes that it is not what she wants. Alice is a logical person, and she doesn't really fit in with the Wonderland characters that are quite irrational. She still remains calm and keeps her composure until the very end. I guess the thing I like most about Alice is her brain.
Favorite Song:
My favorite song is All in the Golden Afternoon. It is the song that the flowers sing. I just find the song to be really pretty especially when the White Rose sings. She has one of the prettiest voices I've ever heard.
Favorite Scene:
My favorite scene is when Alice goes down the rabbit hole. Disney has this brilliant idea to use her dress as a parachute. Alice actually reads a book going down. There are all these pretty neon colors and random objects. The animation is really pretty.
What did you think of the movie? Who was your favorite character?
Next, up would've Amazon Symphony, but I can't find it. It would've been the first Brazilian animated film. It was directed by Anelio Latini in 1951. It was traditional animation. Then, the next movie would've been The Night Before Christmas, but it is under an hour long. It was directed by Valentina and Zinaida Brumberg in 1951. It was traditional animation. It was produced by Soyuzmultifilm. If you would like to watch it, here is the link:
Then, the next movie would've been The Visions of Tay-Pi, but I can't find it. It was traditional animation. It was directed by Jose Maria Blay and Franz Winterstein in Spain of 1951.
So, the movie that I will actually be reviewing next is The Shepherdess and the Chimney Sweep. It was released in 1952 in France. It was directed by Paul Grimalt. It is traditional animation. So, till next time and thank you for reading.
(I do not own pictures, videos, etc. My information came from my own knowledge of the film, Alice in Wonderland DVD, Wikipedia, IMDB, and DisneyWiki.)